Antec GX1200 chassis preview shows a full-tower ATX chassis with 12 mm RGB LED fans outside the box as well as a bottom mounted RGB LED strip.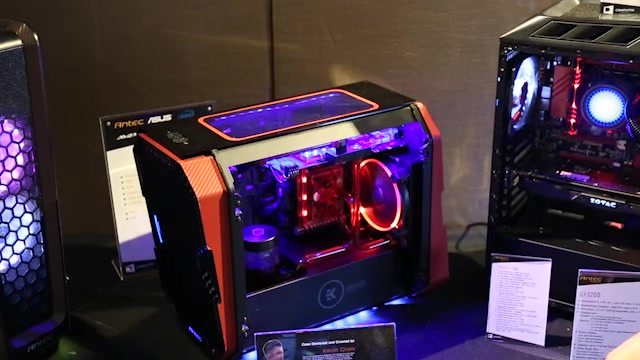 Antec GX1200 Chassis Preview – Best Chassis for cable management
"The GX1200 full tower gaming case is designed for enthusiasts who want the flexibility to run the best hardware and have the cooling potential to match it. Optimized for fast and easy builds, the GX1200 includes builder-friendly features–a spacious interior with ample clearance for graphics cards up to 410 mm, support for water cooling radiators on top, front, and rear, tool-less SSD and HDD bays, and a windowed side panel to show off your build. Equipped with two 120 mm RGB fans and a high airflow mesh panel in front."
This is the ideal case for easy and efficient cable management because of a large amount of space available. A bottom-mounted PSU space allows users to easily hide their cables and mounts two 3.5″ HDDs or 2.5″ SSDs. There are mounts for three additional 2.5″ SSDs in front of the motherboard tray.
https://www.youtube.com/watch?v=jesu8Okp-Tk
The case has mounting room for a 30mm thick 240mm radiator at the top of the chassis. Furthermore, there are mounting options for a 45mm thick 360mm radiator at the front. There is also an LED controller that allows users to switch their fans between 7 different color options. The mid-tower measures 500 mm x 200 mm x 520 mm (Length x Width x Height). It's compatible with mini-ITX / micro ATX / standard ATX/ E-ATX motherboards and supports up to 410 mm VGA cards. "Antec Magic Box" allows users to adjust the fan speed at 6 stages.
The front panel has HD audio jacks, two USB 3.0 ports, and LED on/off buttons. It is expected to be available in both online and retail stores soon for 84 Euros. We'll keep you updated with more Antec GX1200 Chassis Preview and updates. Stay tuned to MobiPicker.