A recent study by Blancco Technology Group has revealed that iOS devices are almost "twice" as likely to fail when compared to competing brands running on Android, reported tech times. The study is titled "State of Mobile Device Performance and Health" and was conducted for Q2 2016.
The failure rate for iOS devices, according to the report, stood at 58% which is actually more than the double of 25% that Apple had for Q1 2016. Android devices managed significantly better, at just 35% failure rate – a staggering improvement compared to 44% in Q1 2016. Crashing apps and Wi-Fi connectivity issues are the main reasons for iOS lacking stability in Q2 2016. Talking about the rise in failure rate for iOS devices, Blancoo said – "Plagued by crashing apps, Wi-Fi connectivity and other performance issues, the iOS failure rate more than doubled to 58 percent quarter-over-quarter". Snapchat, Instagram, Google, Facebook and Facebook Messenger are some of the apps that were found to consistently crash on iOS in Q2 2016.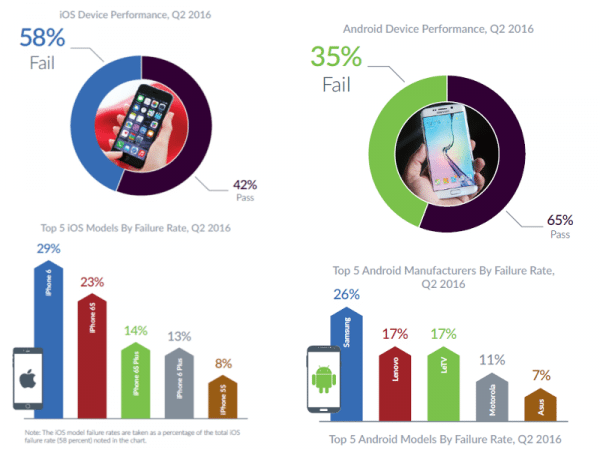 As is evident from the above pic, 29% of iOS failure rate comes from iPhone 6. The iPhone 6s stands at 23%, while iPhone 6s Plus is at 14%. For iPhone 5s, it's relatively low at just 8%. According to Blancco, the recent software updates – iOS 9.3.1 and iOS 9.3.2 – could very well be contributing to the high failure rates in iPhone 6. "Following both software updates, many iPhone and iPad users began to see major problems on their devices" added Blancco.
On the other hand, Android failure rate is significantly due to Samsung, accounting for 26%. Lenovo and LeTV (LeEco) together take the next spot, accounting for 17%. Motorola stood at 11% and Asus at 7%. However, it's worth nothing that Samsung's 26% is no surprise, given the fact that Samsung is responsible for 37% of smartphone sales during the 3-month period ending May 2016. Android device failure rates and performance issues can mainly be attributed to camera and battery charging. Both occupied 10% in the charts. Other issues figuring in the top five are touch, speaker and microphone problems. Wi-Fi, headset, mobile data are some of the other issues plaguing iOS devices but the top spot is taken by crashing apps (accounting for a whopping 65%).
Blancco's data shows that 23% of Android apps crashed in Q2 2016 while the number stands at 50% for iOS apps, significantly higher than Android apps. While Apple continues to grow its market share in smartphones, Android devices backed by Samsung and other brands is steadily making its way into the mainstream mobile market.
Will Android eventually become more stable than iOS? Let us know your thoughts!