India is currently the third largest smartphone market in the world and Android has always reigned as the undisputed Mobile OS king in the Indian smartphone market ever since its early inception on the scene. It has always been trumping Windows and iOS when its come to the Indian audiences for the last few years. Its popularity in India can be judged by the fact that when indigenous smartphone makers like Micromax emerged, they opted for Android rather than its other rivals.
In a recent report from the research firm Strategy Analytics, Android not only continues to rule the Indian smartphone market, but its share has grown even more significantly. For the first, Android as a mobile OS has an astounding 97% market share in India.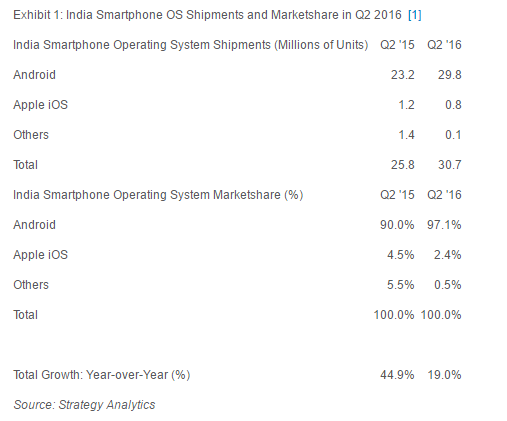 Its nearest rival is Apple's iOS whose market share has declined from 4.5% in Q2 2015 to a mere 2.4% in Q2 2016. However, these are just relative terms and not absolute as the smartphone shipments as a whole have seen a huge growth of about 19% during the past year and the smartphone shipments have grown from around 25.8 million devices in Q2 2015 to about 30.7 million in Q2 2016. However, Apple's sales in India have declined by around 35% as it sold only around 8 Lakh devices in India during Q2 2016 in comparison to around 12 Lakhs in Q2 2015.
Neil Mawston, Executive Director at Strategy Analytics commented on this report saying, "Android shipped 29.8 million smartphones in India in Q2 2016, growing an impressive 28 percent annually from 23.2 million units in Q2 2015. Android maintained first position across India with a record 97 percent OS share for the quarter, up from 90 percent a year ago. Android dominates the India smartphone market and looks unbeatable right now, due to its deep portfolio of hardware partners, extensive distribution channels, and a wide range of low-cost apps like Gmail."
Stay tuned to MobiPicker for more news and updates.