A recent research study conducted by Blancco revealed that Android phones break more often than iPhones, showing that Apple is still top manufacturer when it comes to reliability and durability.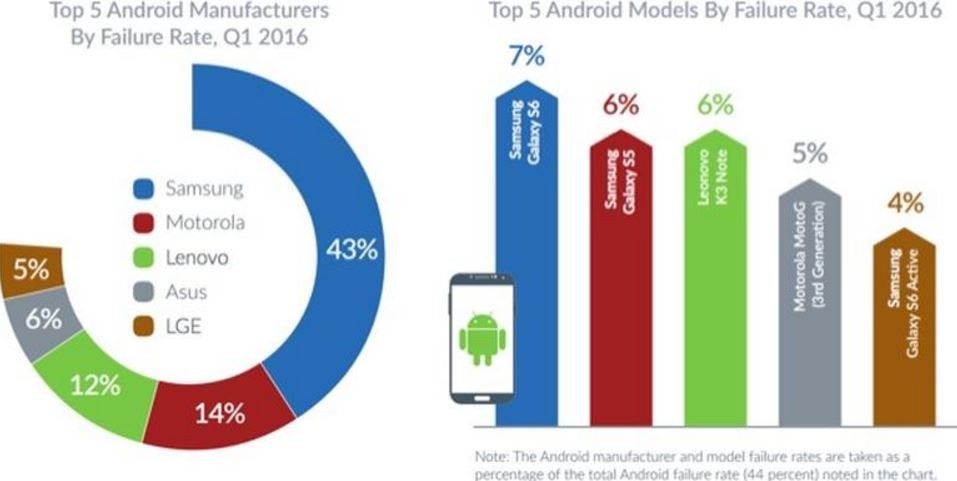 Results show that Android-powered devices have a failure rate of 44 percent, a really high number that demonstrates how open source OS is still vulnerable to malfunctions even though the software side became very reliable and stable. iOS devices, on the other hand, have a failure rate of just 25 percent. All this means that almost every second android device has a chance of failure during its lifecycle; on the iOS side of the line, every fourth iOS device has a chance to malfunction during its lifetime.
Blancco reported some interesting results when it comes to specific models that have the highest chance of breaking. On the top are two Samsung flagship devices, Galaxy S6 (That has a 7 percent chance to malfunction) and Galaxy S5 (which has a slightly lower 6 percent chance on giving up on you). They are followed by Lenovo K3 Note (which also has a 6 percent failure rate), Motorola Moto G 3rd generation (with a failure chance of 5 percent) and in the fifth place is another Samsung device, Galaxy S6 Active (with a failure rate of 5 percent). It's relay interesting to see that Galaxy S6 Active got the 5th place because the particular model was built with maximum durability in mind.
It is worth mentioning that sales numbers haven't been included when calculating failure chances, so it is somewhat logical that Samsung got its two flagship models on the list, because S5 and S6 sold in huge numbers, so they logically get broken more often. The biggest problems devices are facing is the camera, battery, dual-SIM slot, and microphone related. Also, devices with older versions of Android get more issues than those having Lollipop, or Marshmallow, meaning that software is excellent, the hardware is a bigger issue.
IOS devices got lower failure rates because Apple is the only manufacturer of iPhones and iPads while Android can be found on the plethora of devices from dozens of manufacturers. Also, Android is an open system, and many failures happened because users tried to flash different ROMs, or just tried to tweak the system. In other words, if planning to buy Android device with fresh software and not planning to flash it every day, you can be sure that it will perform as it should for a long time.