Everyone was taken by surprise when Android N Developer Preview was unveiled by Google a couple of days ago, and since then, it has been the talk of the town. Everyone is talking about the new features and the improvements that this OS will bring over its predecessor. Here are the 10 new features of the Android N Developer Preview has brought and which we feel worth mentioning:
Spilt-Screen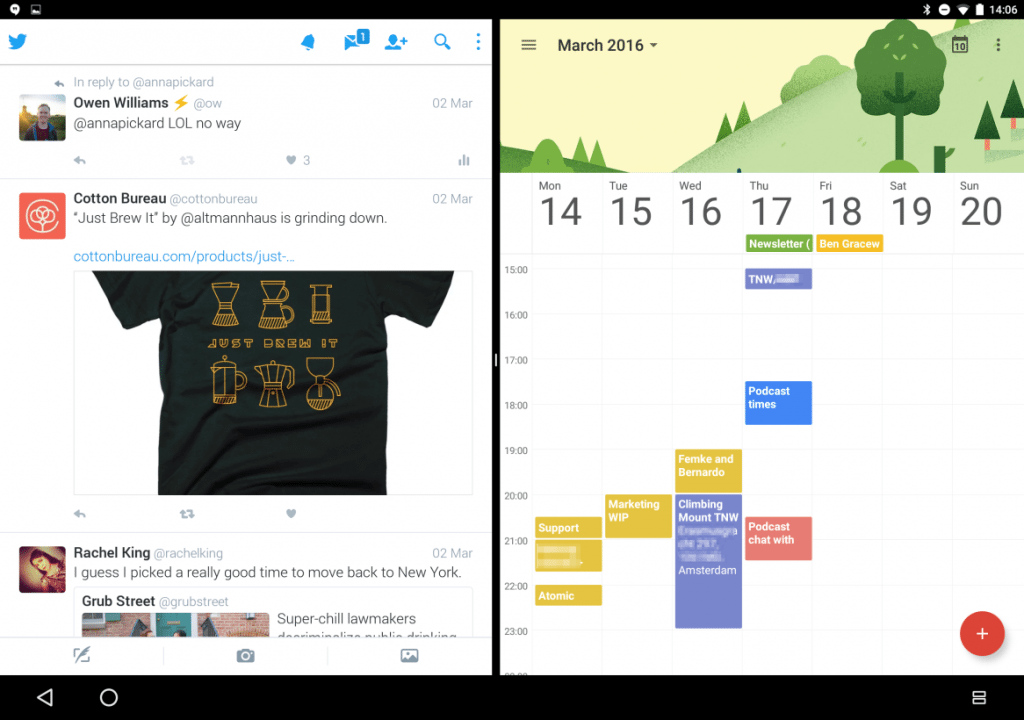 This was first noticed in the preview of Android Marshmallow, but this time, we think that this feature would make its way to the final version. Users can activate this either by holding down the Recents button or you can drag an app to the top or bottom of the screen in the Recents view tab.
According to Google, its developers have used a new code which would specify the behavior of an app while being resized like whether it should redraw or just move elements around. However, Google does warn that an app 'may not work with split-screen' if the particular app hasn't implemented the new code yet, but most of the apps that we tried worked really well. This feature should come in very handy in tablets.
Better Notifications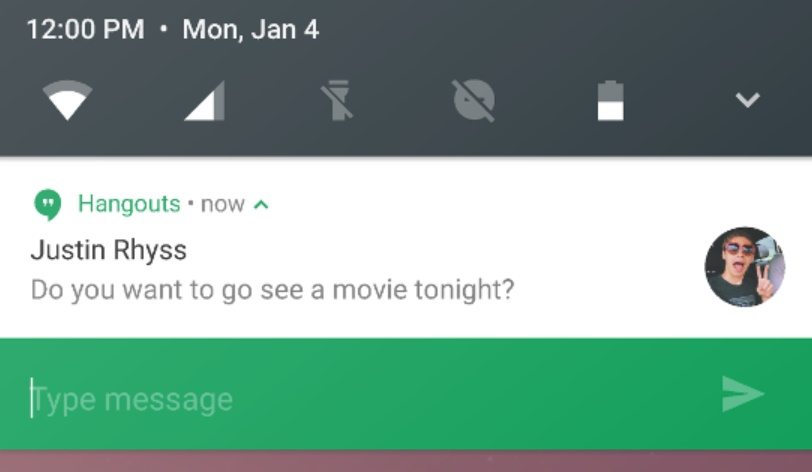 Android N brings many improved and more powerful notifications. Users can now reply to a message right from the notification instead of opening the concerned app. The notifications now have a better minimal look and it bundles the several notifications from a single app together. Users can expand them either through the two finger method or by pressing a new arrow button.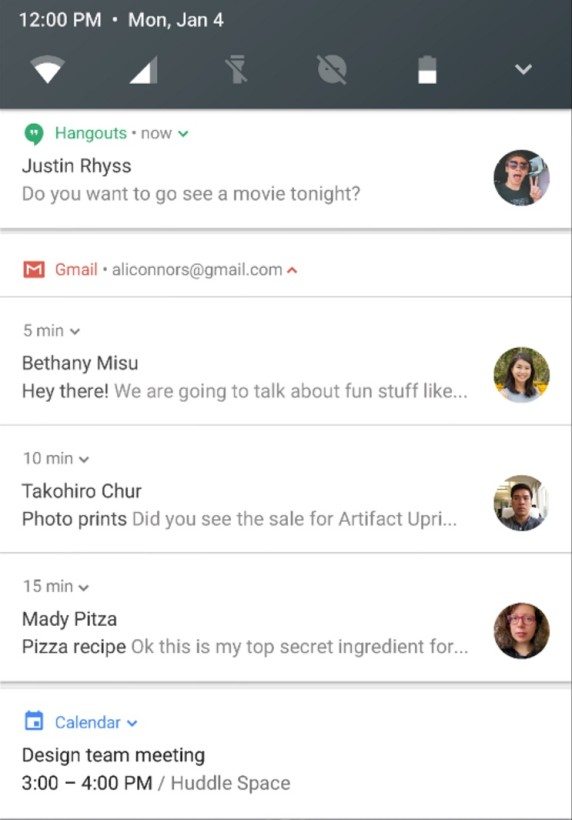 Users can now preview each message like e-mails from an app individually in the notifications itself. Also, a half-swipe to the right allows users to access notification controls such as changing its priority or stopping irritating apps from showing notifications.
UI Tweaks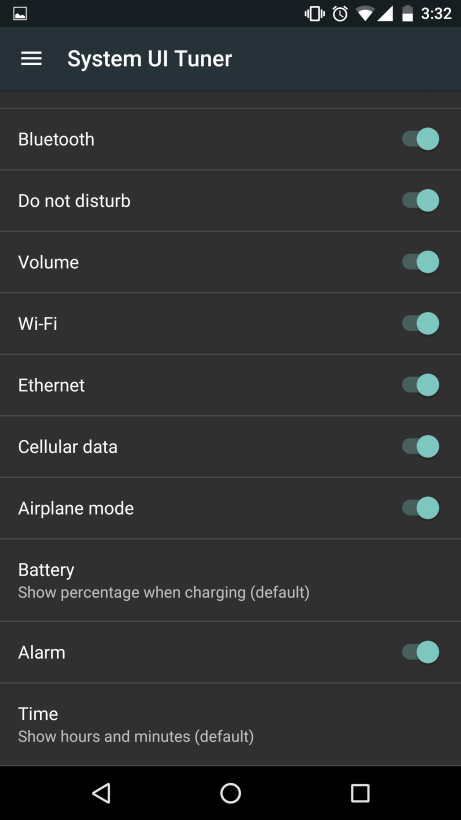 Android N takes the UI tweaking to a whole new level. You can now customize all of the icons that fill up the status bar. You can choose what should be there and what not. You can even remove icons like Wi-Fi, cellular data, Bluetooth, airplane mode, alarms, etc. from the status bar now.
Users can even add seconds to the time display now or can completely disable them at their choice. The System UI Tuner is a hidden feature and only appears once you the gear icon in the notifications for a few seconds. This feature was available in Android Marshmallow too, but it wasn't that enhanced like giving far more options like calibrating your display's color to your choice be it warm or cold.
Night Mode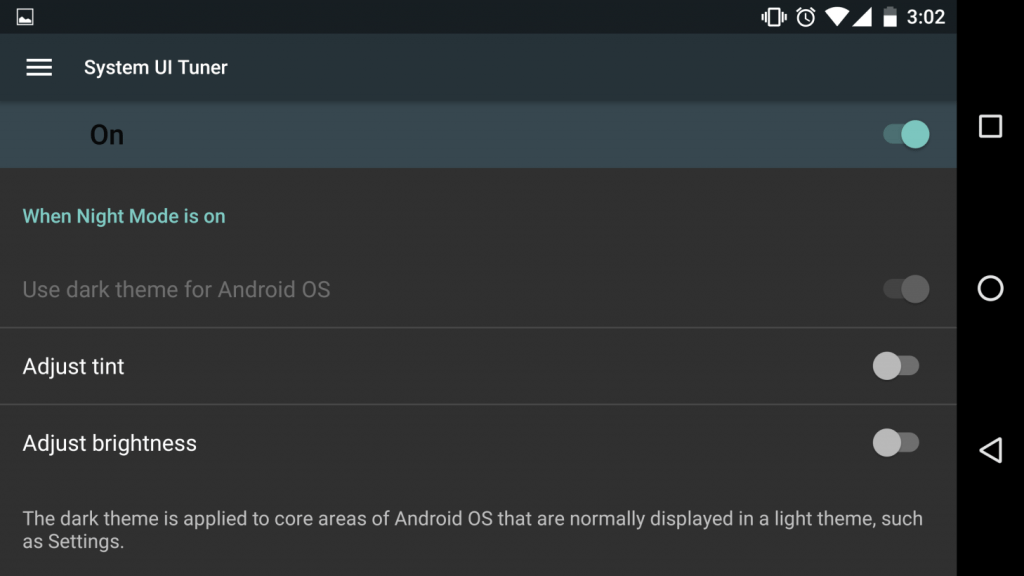 Android will finally have a dark theme now if this feature stays. It consists of three toggles: the first switches the UI to darker aesthetics. The other two toggles bring an orange like tint to filter out the blue wavelengths of light and brightness adjustments depending upon the time of day.
DPI Scaling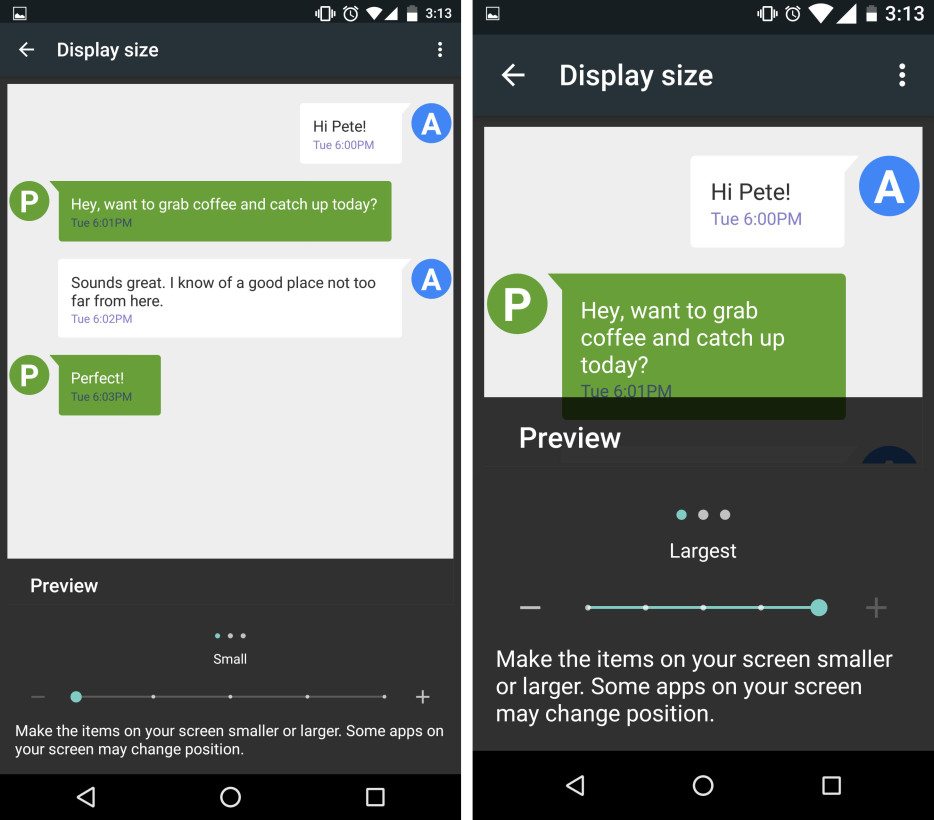 DPI scaling is a very useful feature and especially for them who have a poor eyesight. Users can now make icons and other items larger to make them easily visible.
Also, the users with very good eyesight can now change the DPI to shrink the size of the items to accommodate more items on the screen.
Emergency Info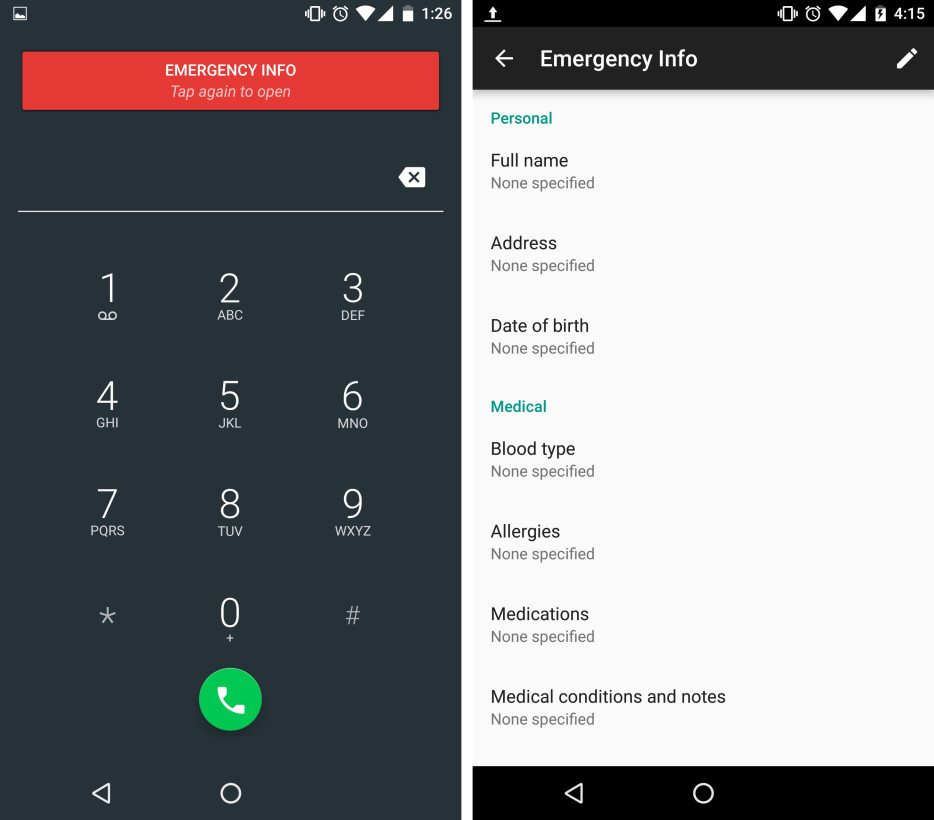 Android N has incorporated this new feature through which users can put up their name, address, blood group, medications, allergies, emergency contacts and other relevant information on the lock-screen. This can be accessed by anyone through emergency dialler and can be useful for in emergencies or in the case you lose the phone.
Double Tapping The Recents Button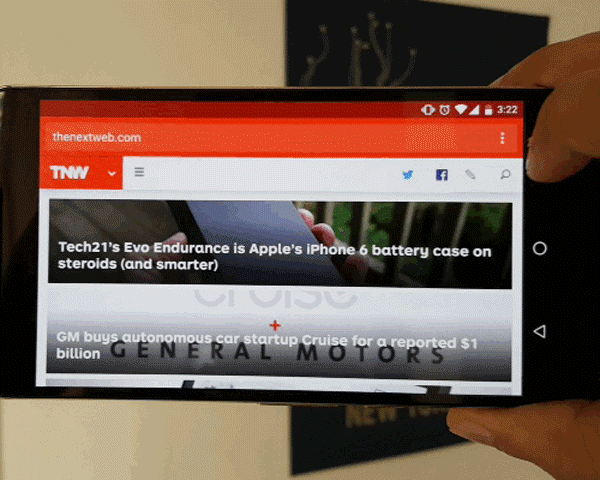 This one's my personal favorite. Double tapping the Recents button will now act in a similar fashion as the Alt+Tab does on a PC. Users can now switch to the last opened ap just by double tapping the Recents button instead of scrolling through a plethora of last used apps in the recents window.
Faster App installs and No more 'Optimizing Apps' after an update
Finally, the much annoying 'Optimizing Apps' phase after updating your phone is history. Google did away with this well and good. You don't need to wait for minutes now after updating your phone before you can actually use it. Also, the apps will get installed much quickly now.
Google said, "large apps that required several minutes to optimize and install in Android 6.0 can now install in just a matter of seconds."
Quick Settings tiles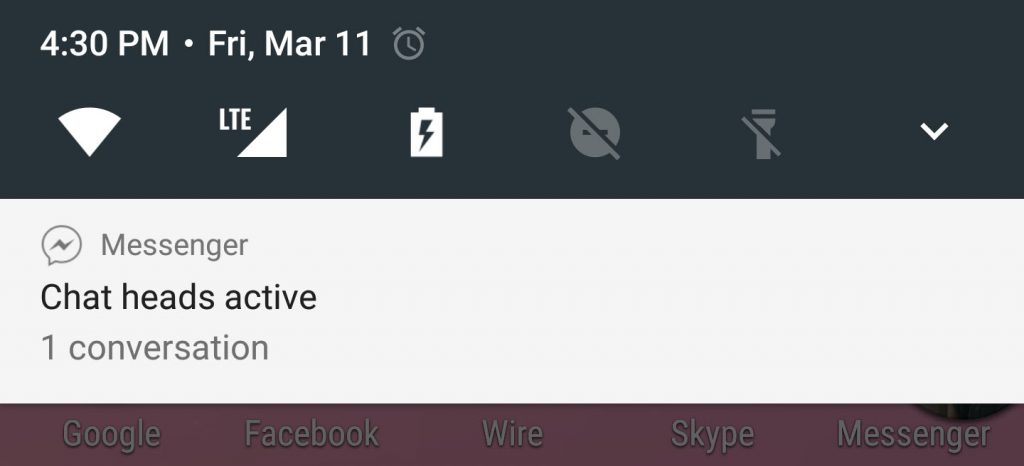 The Quick Settings menu has got a few changes too. Users can now access five settings from the very first time they pull down the notifications shade.
The settings tiles are paginated now once you pull down the notifications shade all the way down. There is an edit button now through which users can adjust the order of the tiles. The first five tiles that you choose will become the preview toggles.
Updated Settings Menu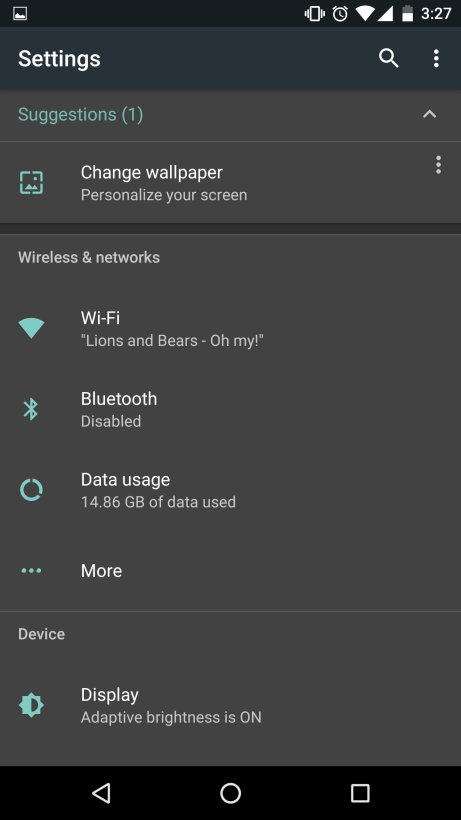 You will be greeted by tons of setting suggestions once you open the settings menu. For instance, Google may ask you to change your wallpaper or other settings which you haven't touched yet.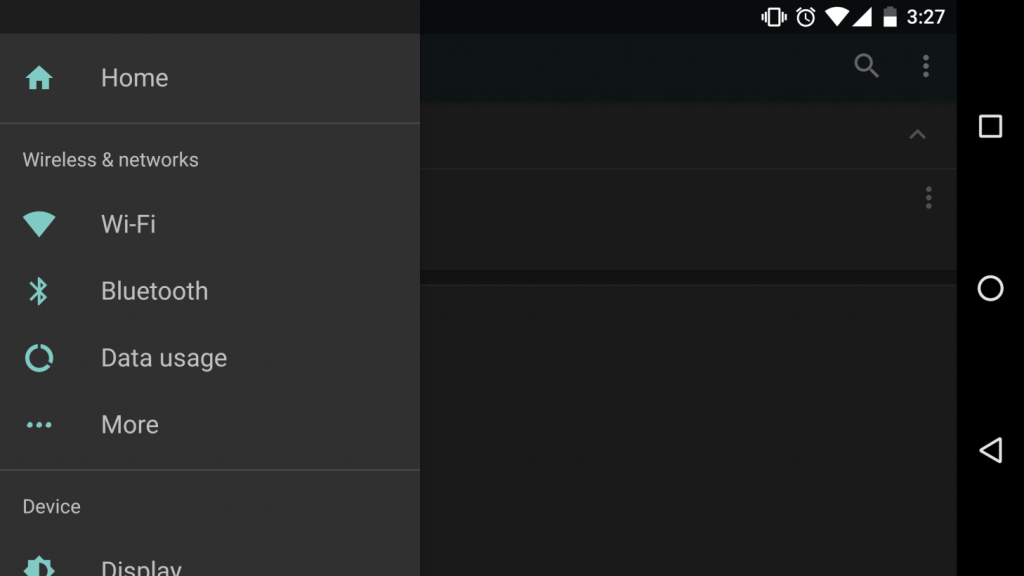 Secondly, Google has set previews under each menu item. You will be able to see how much RAM or storage you have left without even clicking on a menu item. Users can also see the full details by swiping to the left. This can be a great time-saver for many.
This was it folks for this time. Stay tuned for more news and info and do leave your comments below.