Everyone has been wondering about the long-awaited Marshmallow update for their devices, and now thanks to a leaked road-map, the Samsung Galaxy users can check out the update schedule for their smartphones. This timetable of Marshmallow update is divided into two phases – Phase 1 and Phase 2.
For those who are not aware, the key features of Android 6.0 Marshmallow update includes such as Google on Tap, which offers contextual search results based on the things shown on your screen. Then, Doze cuts down background running apps when your phone is idle and therefore increasing standby time. Another nice feature of the update is control on app permissions – One can manage apps permissions on individual basis instead of approving all the permissions at once. You can check out more details on Android 6.0 Marshmallow update here.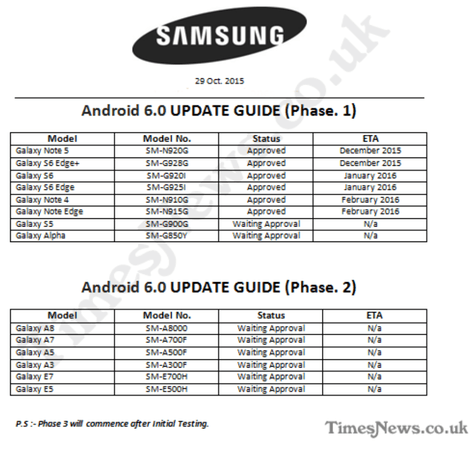 Coming back to the Samsung Galaxy smartphones update, the leaked road-map reveals that the Phase 1 will include the Galaxy Note5, S6 edge+, Galaxy S6, S6 edge, Note 4, Note edge, Galaxy S5 and the Galaxy Alpha. The first devices scheduled for the update in December 2015 are the Note5 and the Galaxy S6 edge+, followed by the Galaxy S6 and the Galaxy S6 edge scheduled for January 2016. Then in February, we expect the updates to land for the Galaxy Note Edge and Galaxy Note 4. The last two devices on the list are still awaiting technical approval.
Unfortunately, we have no info about an alleged ETA for the devices in Phase 2, they are also awaiting approval. These devices are: Samsung Galaxy A8, Galaxy A7, Galaxy A5, Galaxy A3, Galaxy E7 and the Galaxy E5.
We will keep you updated about the devices awaiting technical approval and about their scheduled Marshmallow updates. Stay tuned.