It has been over six months since Google launched its Android Marshmallow. Google has been receiving many complaints and criticisms because the Android Marshmallow has been reaching out to the various devices at snail's pace.
By early March, only 2.3 percent of all Android devices were running Android Marshmallow. However, things have started to improve as the percentage share has almost doubled in just a month. Currently, 4.6 percent of all Android devices are running Marshmallow. That's some impressive growth.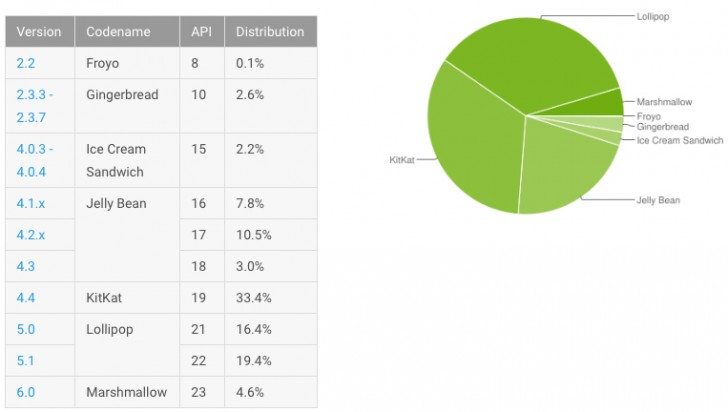 Android Lollipop, still is the most popularly used Android OS out there with about 35.8 percent of market share in April. Interestingly, the percentage share of Android Lollipop has dipped by 0.3 percent from the last month. Also, Kitkat has seen a dip of 0.9 percent in the total market share during March and has currently a market share of 33.4 percent. So, it is quite evident that Marshmallow is gaining at the expense of its previous two predecessors.
Android Jelly Bean has still a strong presence with about 21.3 percent of the total share. It has also taken a major hit of 1 percent in the last month. Ice-cream sandwich is also taking its last breaths and has seen a decline of 0.1 percent in the market share. Gingerbread and Froyo are surprisingly still not extinct and have 2.6% and 0.1% market shares respectively.
These results are encouraging as concerns were growing over the slow outreach of Android Marshmallow, especially considering the fact that Android N is just a few months away now.