During the Google I/O 2016 event, Google had announced that Waze support would be added to Android Auto. However, there was no fresh information on collaboration between Google and Waze for Android Auto. Fresh information on it is that Waze Community members are now being sent emails asking their desire for beta testing Waze Android Auto.
The above snapshot of the email shows that the message is sent from the Waze Beta Team.  It states that beta testing of Waze support for Android Auto will begin soon without mentioning a precise date. It is now finding out the whether the community is interested in trying out the test project. The message contains a link to the form that can be filled to join the test project.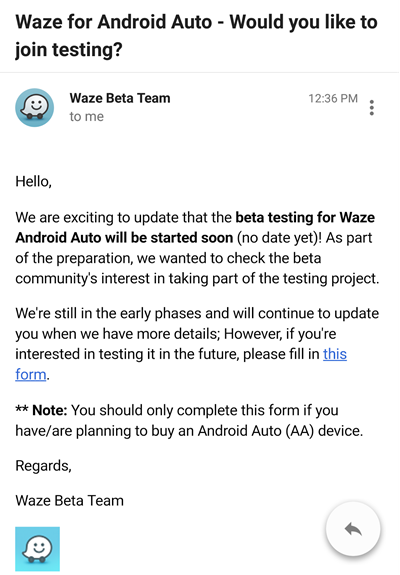 The email does not mention whether beta testing is available for limited number of users. Here is the link to sign up for the beta project. The arrival of Waze support does not indicate that it is an official alternate for Google Maps on Android Auto.
Waze integration was last spotted on Android Auto in the month of https://waze.centercode.com/welcome/February. At that time, a selector arrow had shown up near the Navigation button. When users tapped on it while navigating, it only gave access to a list showing Google Maps. The probable reason why the Waze support has been delayed for Android Auto is that the search engine giant was busy accumulating data.
Based on the data collected from Waze, Google is likely to show up advertisement on the infotainment system. However, there is no official confirmation on it from Google. The integration of Waze on Android Auto will keep users informed about the oncoming hazards and probable delays and other issues. Google is expected to reveal more information on it through the Google I/O 2017 event in May.