Google has finally started rolling out Android 7.0 Nougat update to Nexus devices. The search engine giant has also provided a way through which any of the recent smartphones can install the Android 7.0 Nougat software upgrade.
Google has released the Nougat update to Nexus 6P, Nexus 5X, Nexus 6, Nexus 9, Nexus Player, General Mobile 4G (Android One phone), and Google Pixel C. The size of the Android 7.0 Nougat update is 1.1 GB.
The update won't be instantly available for these devices but the OTA update will be made available to them over "several weeks," the official Android blog stated.
Moreover, carriers are known to test the software update before releasing it to the subscribers. Hence, users of carrier variants should expect a slight delay in the arrival of Android 7.0 Nougat update.
Android 7.0 Features at a Glance
With over 250 major features, the Android 7.0 Nougat update is said to be a substantial update. It features more than 1,500 emojis. The multi-window feature allows users to access two apps side-by-side. Switching between apps has become quicker than before.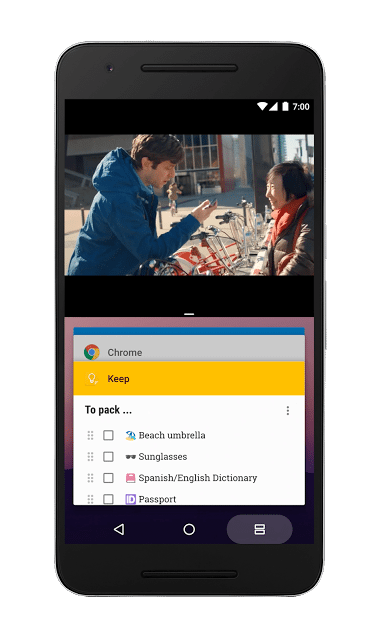 With Vulkan API onboard, supported devices will be able to deliver high-performance 3D graphics. The Android N OS has an inbuilt VR mode feature as well. The Doze on the Go feature makes it possible to consume less power when the device is not in use.
How To Install Android 7.0 Nougat On Any Smartphone?
Google had started Android N Developer Preview program in March. The program allows users to try the new features of the beta version of the OS.
Since March, the search engine has been consistently releasing preview builds of Android 7.0 Nougat. Finally, it has released its final version to Nexus devices. The LG V20 that is going to be announced on Sept. 6 will be the first non-Nexus device to arrive with Android Nougat OS onboard. Other smartphone OEMs will also release the update to flagship devices in the near future.
Apart from the Nexus phones, the Nougat update is currently unavailable for other smartphones. The roll out of the update is likely to start after the release of Google Nexus 2016 smartphones. The rumored Nexus Marlin and Sailfish smartphones are expected to release early in October.
Google is yet to release factory images or OTA update to aforementioned Nexus devices. However, there is one way through which Nexus users can still install the Android 7.0 Nougat update now. How? The answer is to enroll in the Android Beta program and then check for the arrival of the Nougat update.
It will install the preview build of Nougat update. One should be aware of the fact that preview builds are not stable are likely to contain performance issues.