The much-awaited new AMD Zen desktop CPUs will be officially known as RYZEN. They will flaunt eight cores, clock speeds above 3.4 GHz, and the ability to auto overclock themselves.
AMD attributes this new feature to a technology called "XFR", acronym for Extended Frequency Range. Thanks to XFR, the chip giant's forthcoming enthusiast line of Zen microarchitecture-powered Summit Ridge desktop processors will automatically boost  their clock speeds above the official nominal values and keep them there as long as the cooling will allow. The entire process doesn't require any intervention on the side of the user.
A recent leak by VideoCardz has shed light in to several previously unknown aspects of the next-generation desktop Zen processors bearing the codename Summit Ridge. It confirms that all products in the lineup will carry the brand name RYZEN. They will come equipped with up to eight cores and 16 threads and boast 3.4+ GHz clock speeds right out of the box.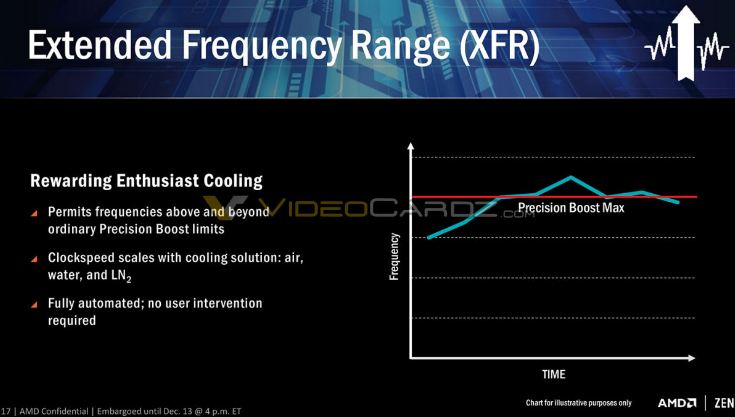 Meanwhile, AMD has also stated that RYZEN will feature 16MB of L3 cache, as well as 4MB of L2 cache, amounting to a net of 20MB of cache.
Adding more power to XFR, there are two additional interconnected features named Pure Power and Precision Boost.
Pure Power operates by constantly observing frequency, temperature, and voltage reading in real time using the sensors throughout the Zen cores. The primary objective of these sensors is to feed data back to "Infinity Control Fabric" which is configured to adjust the power output as and when required. This setup ensures that the average power consumption remains at its minimal and the least amount of heat is dissipated.
| | AMD Naples | AMD RYZEN |
| --- | --- | --- |
| Market | Enterprise | Desktop |
| Microarchitecture | Zen | Zen |
| Cores | 32 | 8 |
| Threads | 64 | 16 |
| L1 Instruction Cache | 32 KB x 32 | 32 KB x 8 |
| L1 Data Cache | 64 KB x 32 | 64 KB x 8 |
| L2 Cache | 512 KB x 32 | 512 KB x 8 |
| L3 Cache | 512 MB | 16 MB |
Meanwhile, Precision Boost is designed to work in unison with Pure Power to maintain the highest possible frequency across all voltage range, improving overall performance without affecting the power dissipation of the chip.