Tech enthusiasts and hardcore gamers around the world are eagerly waiting for the AMD Zen based FX processors. These chips are expected to bring the performance of CPU on par with Intel's latest processors at extremely affordable prices. In latest news, as reported by WccfTech, the first verified benchmarks of the upcoming Zen processor have just been leaked via the Ashes of the Singularity  (AotS) benchmark database.
The benchmark results serve as only an indication of the expected performance of the final product. The benchmark results presented are that of the Engineering Sample of AMD Zen and therefore may not be an exact representation of the final product. The results must be looked at with a grain of salt.
Benchmark Results show Impressive IPC Gains over AMD's FX-8350
The OPN (Order Part Number) 1D2801A2M88E4_32/28_N of AMD's Zen Engineering Sample was leaked recently. The first part represents unique ID of Zen ES CPU. The second part (32/28) is what we are interested in. It reveals the base clock as well as the boost clock. The base clock is therefore expected to run at 2.8GHz and the boost/turbo clock at 3.2GHz. As we mentioned, these frequencies are not final and are only representative of the engineering sample. The final product frequency may as well be better. Only time will tell.
Zen ES Benchmarks
Two variants of the Zen were tested, corresponding to 1D2801A2M88E4_32/28_N and 2D2801A2M88E4_32/28_N (1D and 2D).
Benchmark Results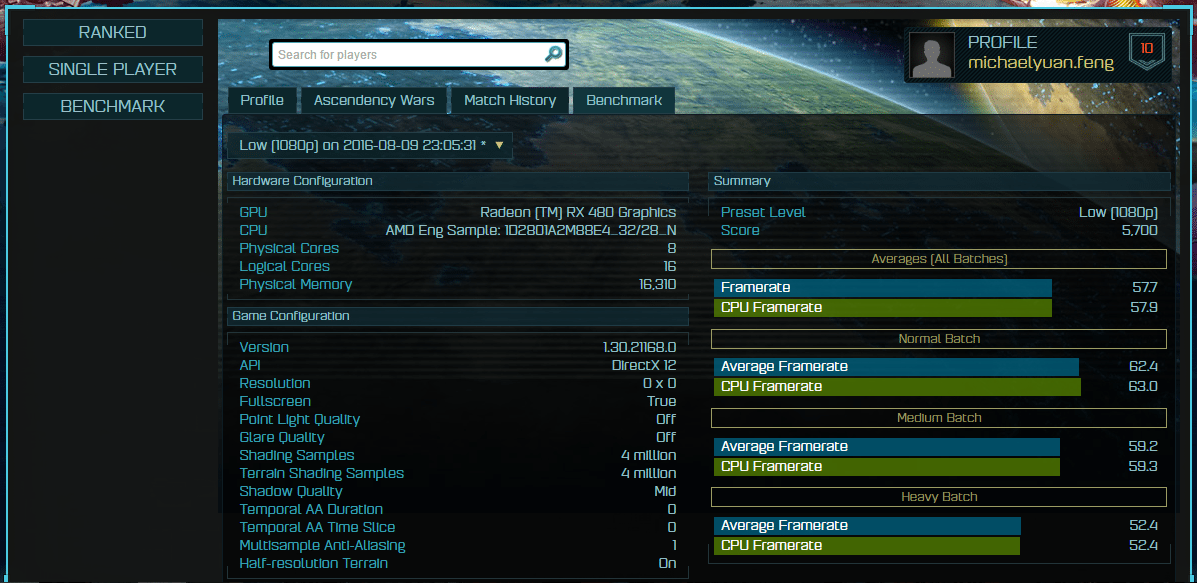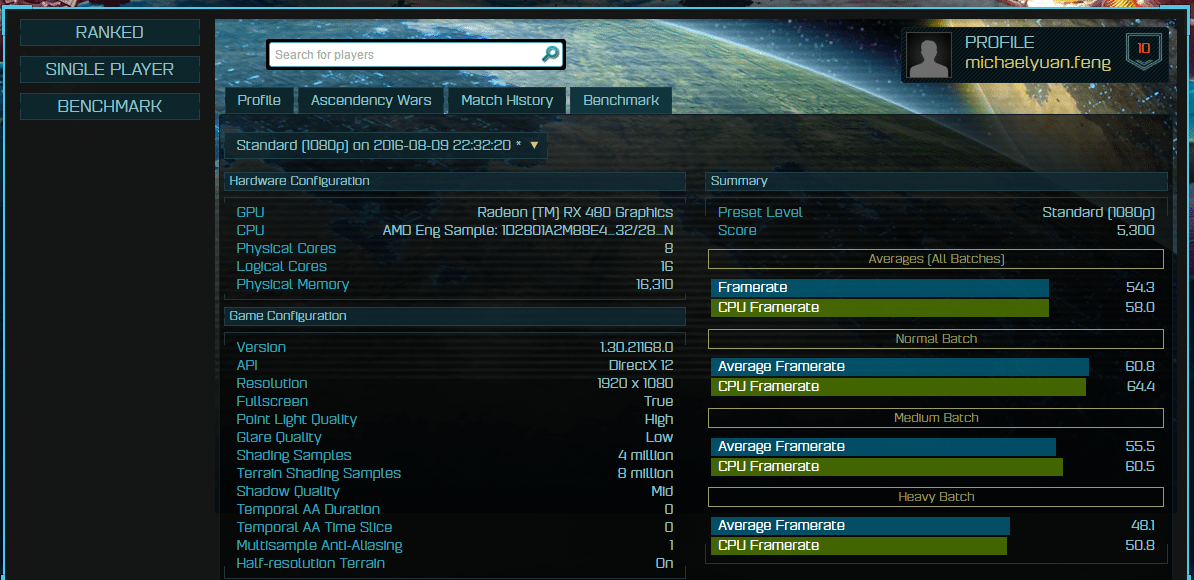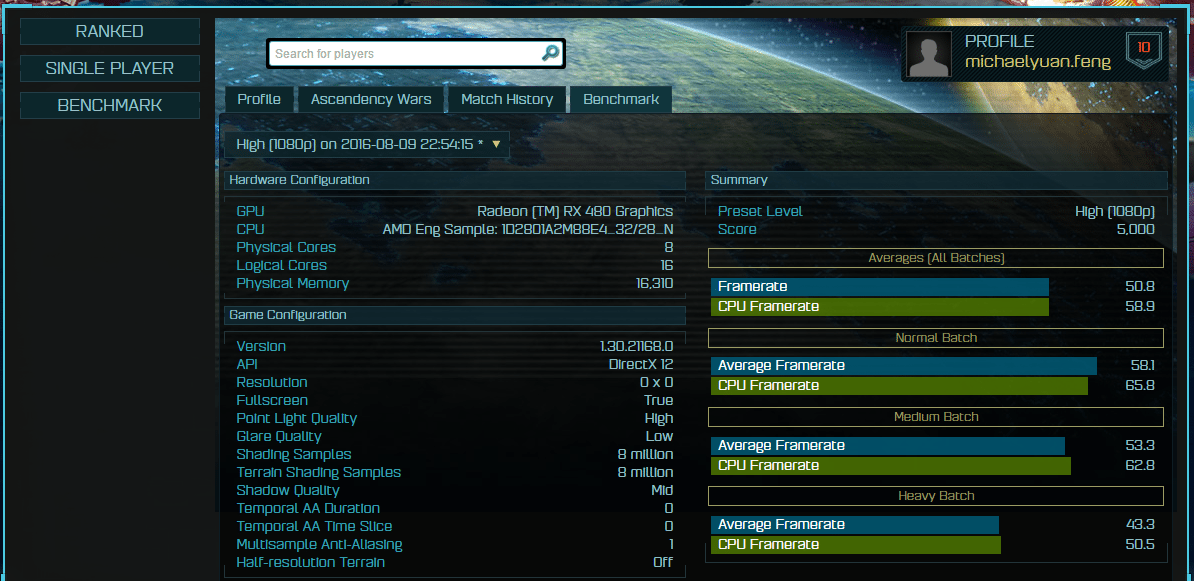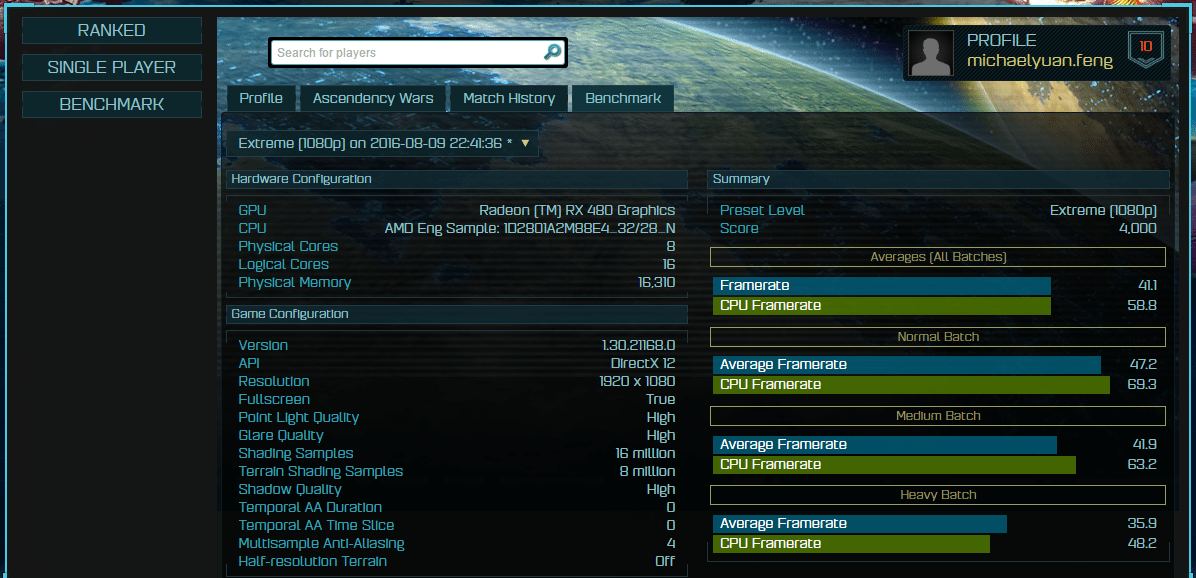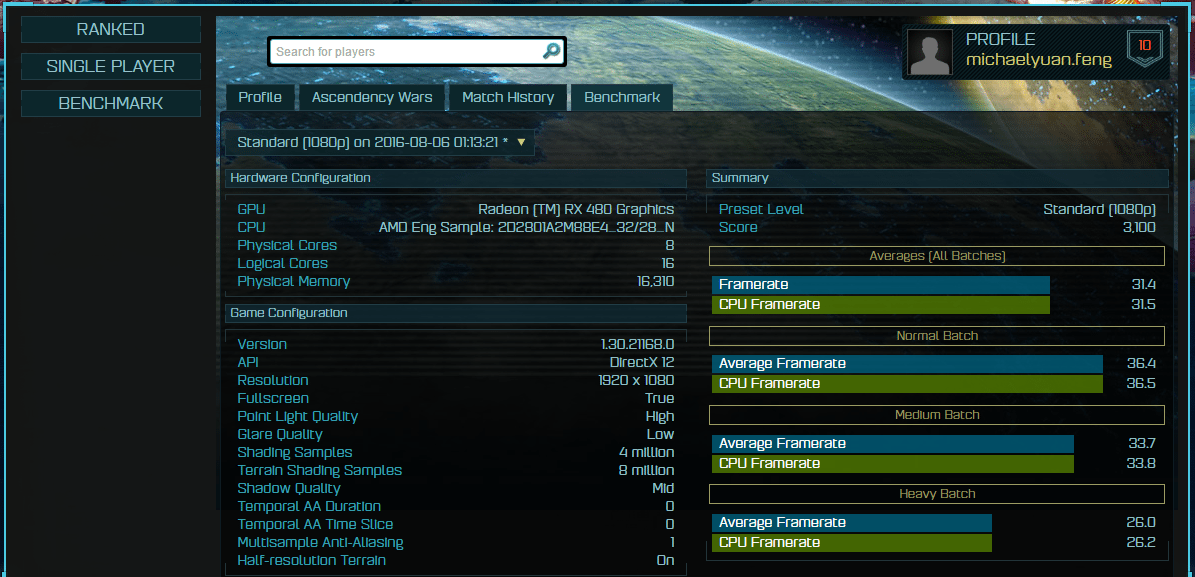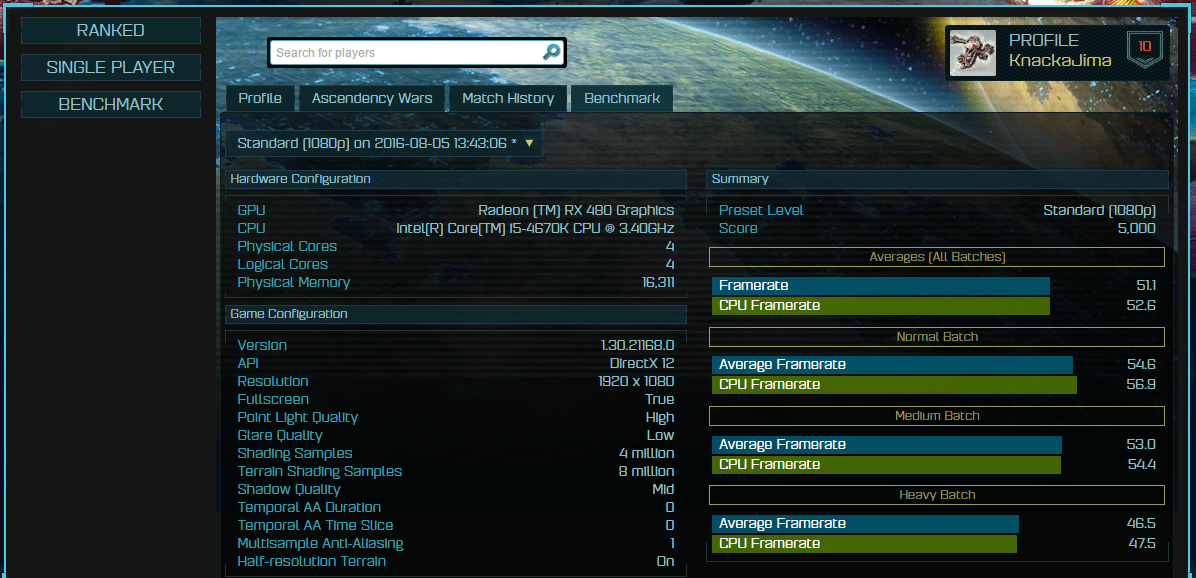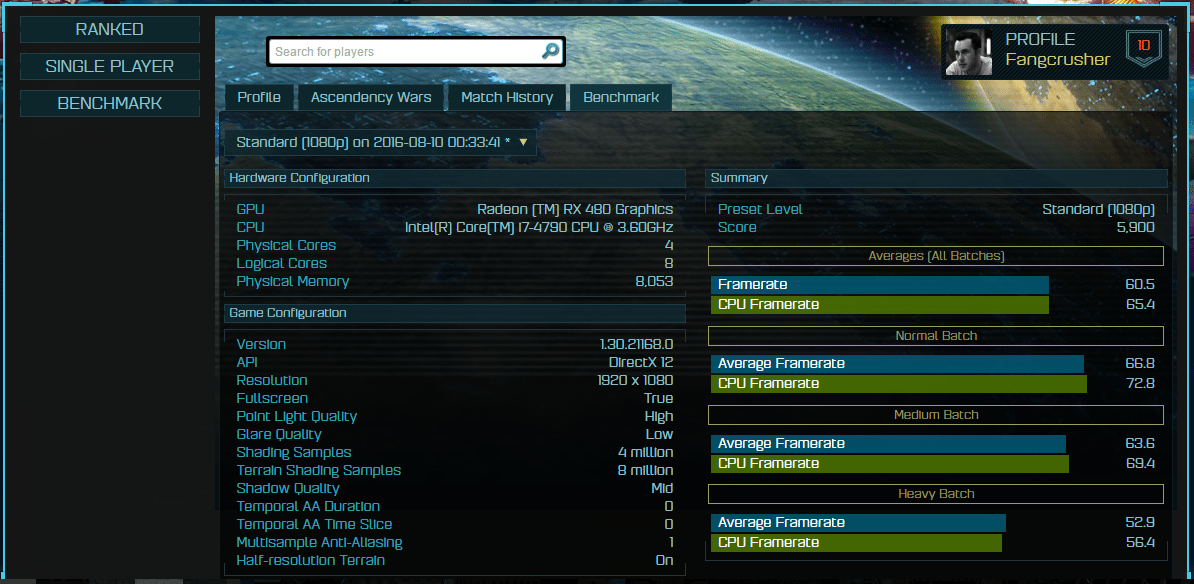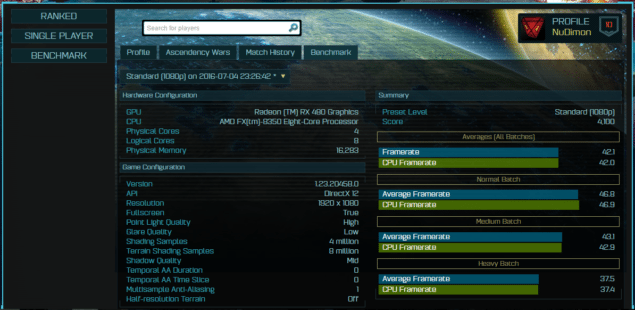 Across all settings, we can see that the CPU performs consistently at 58 fps. The benchmark was conducted with AMD Radeon RX 480. So it's fair to say that direct comparisons cannot be made from these results alone. However, this setup can be compared to similar setups with only the CPU replaced. With this, at first sight, there doesn't seem to be any difference between 1D and 2D variants. The only difference is that 2D fares worse in performance. It's entirely possible that the worse performance can be attributed to cut down core or the benchmark is reading it incorrectly or simply that the 2D is just another revision being tested that just happened to be not so friendly for AotS benchmark. So the author of WccfTech decided to concentrate only on 1D variant for the comparison.
Zen ES Performance Comparison (AotS Benchmark)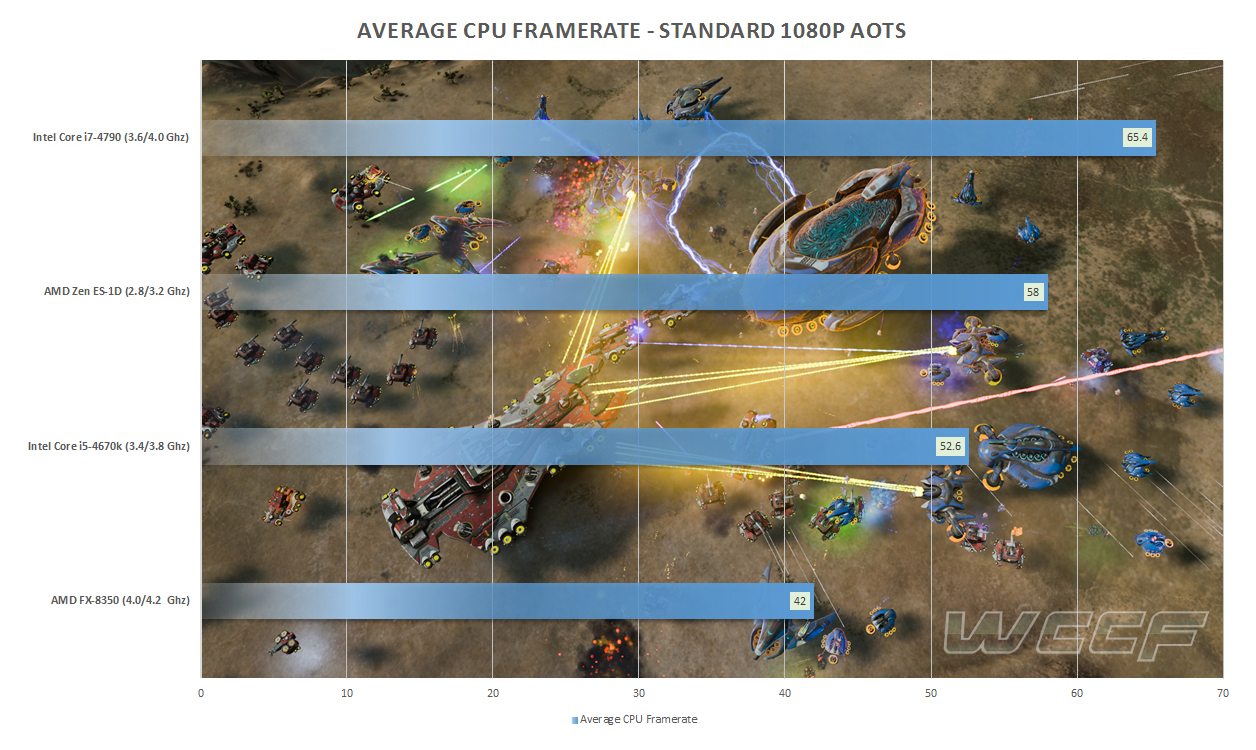 The author was able to find comparable configurations (RX 480 GPU + Standard 1080p Preset) to see how the CPU compares to other processors of this tier. The Zen ES is clocked pretty low, indicating that this benchmark is slightly skewed right from the start.
When compared to its competitors, Zen ES engineering sample is faster. It beats the Intel Core i5 4670k (base clock: 3.4GHz) even with a base clock of 2.8GHz. It's also 38% faster than AMD FX-8350 and 10% faster than i5 4670k, but 11% slower than Core i7 4790 (base clock: 3.6 GHz).
Assuming that the final product will have frequency numbers higher than the engineering sample and expecting it to reach 4.0 GHz, it should be able to outperform Intel's i7 CPUs. AMD's Lisa Su has told that Zen will be shipping by year end but in limited quantities. The full availability is expected in Q1 2017.