Lately, AMD has been fast losing its top spot as the largest computer processing manufacturer to Intel. For long, AMD has failed to launch a high-powered simultaneous multithreading processor and that is where Intel has been gaining ground in the computer chip market. i-series processors from Intel are energy efficient and can perform hyperthreading which had been lacking among any of the processors designed by AMD. But, with the launch of AMD Ryzen series processor things seem to be returning in favor of the former market leader.
https://www.youtube.com/watch?v=1v44wWAOHn8?ecver=1
Gadget enthusiasts from all over the world are all gaga about AMD's Ryzen series processors. As is evident from the fact that since it's launch a few hours back AMD Ryzen series processors have now become the best selling CPUs on Amazon. AMD Ryzen 7 1800X, the best of the three processors launched yesterday is available on amazon.com for $499 whereas Ryzen 7 1700X and Ryzen 7 1700 are available for $399 and $329 on the same website.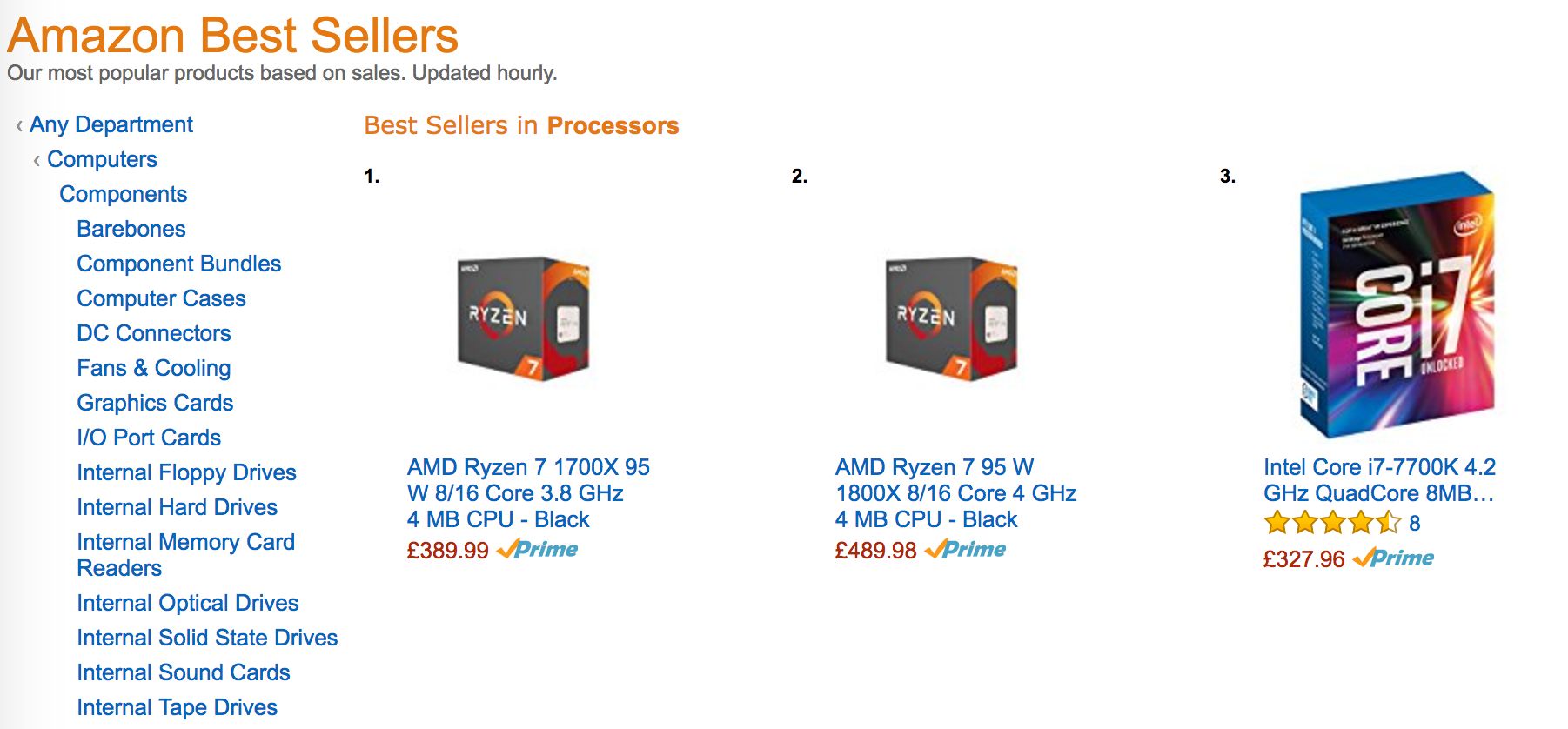 Another interesting fact to be noted about the best selling tag of Ryzen is that Amazon has listed them only for pre-orders, the actual sale is scheduled to start from 2nd March. The popularity generated by these processors is ample to let everyone wonder about what gives Ryzen processors an upper hand over the immensely popular Core i7 and Core i5 processors.
With the new Ryzen series AMD has materialized its long-awaited Zen microarchitecture technology. AMD had assembled the same team that worked on Athlon Series processors to repeat the same success story again. Zen microarchitecture is by far the most efficient technique used in any processor to process commands. According to developers, Ryzen series processors are 40% faster than the previous most powerful processor developed by AMD.
In a press statement, Mark Papermaster, the CTO of AMD has said that with the initial response that they received from prototype users they are confident about their future in the processor market and have already started working on upcoming generations of the Zen architect based processors. The new strategy by AMD is a clear message to its rivals that AMD has adapted to the dynamic demands of the industry and is firm to claim its position back.
The bottom line is one can again trust AMD for their increasing needs of extra cores and an efficient processor for their PCs. AMD has proved itself a number of times and with the launch of AMD Ryzen 7 Series, we are happy that it is in the right direction.