The official embargo on AMD's Ryzen 5 mainstream CPUs are expected to stay for another week, although the chips have been reportedly available at select few retailers for at least the past couple of weeks or so. Maybe that explains how one overclocker managed to get his hands on a Ryzen 5 1400 which he then used to run a series of tests for the world to see.
Thanks to Santiago Santiago, a video comparing the Ryzen 5 1400 with two other CPUs was posted on YouTube. The test setup comprised a HIS Radeon RX 480 and 8GB of Kingston DDR4 2133MHz RAM. The other two chips were Pentium's G4560 and the Intel Core i5 7400. The performance benchmarks of the Ryzen 5 1400 have been discussed here.  But today, we have some new information to add to that.
AMD Ryzen 5 1400 quad-core CPU tested at stock and overclock speeds
The quad-core, multi-threaded Ryzen 5 1400 chip is going to be released along with other Ryzen 5 series CPUs on April 11. For starters, the $169 mainstream chip comes with four cores and eight threads. A look at the specs is more than enough to conclude that it will give a tough competition to the more expensive Intel counterpart, the Core i5 7400.
The Ryzen 5 1400 comes with a base clock speed of 3.2 GHz and boost clock speed of 3.4 Ghz. Other key specs include 8 MB of L3 cache and a TDP of 65W.
In a new video, the new Ryzen 5 chip has been seen undergoing tests at both stock, as well as overclocked speeds. From the results, it appears that the processor can overclock to 3.8 GHz. But if you keep pushing it beyond that, the chip crashes. Even under high voltages.
The chips scored 754 points in Cinebench R15 and 8.49 points in Cinebench R11.5 at around 3.5 GHz. Compared to that a Haswell 22nm architecture-based Intel Core i7 4770K chip (featuring four cores and eight threads) scored 822 points vs 754 points of the Ryzen 5 chip.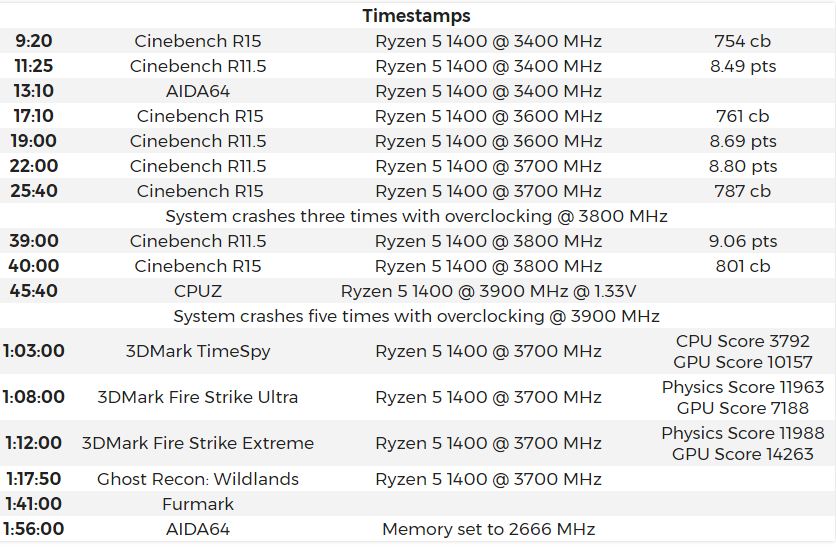 Meanwhile, at 3.6 GHz, the Ryzen chip scored 761 points Cinebench R15 and 8.69 in Cinebench R11.5. The corresponding scores at 3.7 GHz were 787 and 8.8. At 3.8 GHz, the scores became 801 and 9.06 respectively.
[Via:
VideoCardz
]