AMD's official presentation for the forthcoming Radeon RX 500 series graphics card have been revealed via a new leak. Initially posted on Chinese forums, the leak was picked up by the folks over at VideoCardz. While MobiPicker can not independently verify the authenticity of the leak, the presentation therein allows a sneak peek into the specs and gaming benchmarks of multiple Polaris-powered variants.
While it's been awhile since we have known the specs of the new Radeon RX 500 cards, this is the first instance when official documentations about these new products have surfaced online. The new leak confirms our earlier assessment about the Radeon RX 500 series comprising the following: Radeon RX 580 (Polaris 10), Radeon RX 570 (Polaris 10), Radeon RX 560 (Polaris 11) and the Radeon RX 550 (Polaris 12).
All RX 500 series cards will be officially launched on April 18, although their commercial availability may vary with the RX 580 and RX 570 hitting the store shelves first.
AMD Radeon RX 580, RX 570, RX 560, and RX 550 specs
AMD Radeon RX 500 Series Graphics Cards
GPU Name
Cores / Boost Clock
Memory / Clock
Bus / Bandwidth
Price
Radeon RX 580
Polaris 20 XLX
(Ellesmere XT)
2304 / ~1340 MHz
8/4 GB / 8.0 GHz
256-bit / 256 GB/s
$229– $279
Radeon RX 570
Polaris 20 XL (Ellesmere Pro)
2048 / ~1244 MHz
8/4 GB / 6.6 GHz
256-bit / 212 GB/s
$169-229
Radeon RX 560
Polaris 21 (Baffin Pro)
896 / ~1287 MHz
4/2 GB / 7.0 GHz
128-bit / 112 GB/s
$110-$120
Radeon RX 550
Polaris 12 (Lexa Pro)
4/2 GB / 7.0 GHz
2 GB / 7.0 GHz
64-bit / 56 GB/s
$99 or less
AMD Radeon RX 500 gaming benchmarks
AMD is comparing the high-end card in the series, the RX 580, with the Radeon R9 389X and the custom GeForce 970s. Even though the performance is somewhat comparable to that of the RX 480, the RX 580 has much more to offer owing to its refined core and higher clock speeds.
The Radeon RX 570 will is expected to bring you best visual and performance on 1080p along with 4GB of GDDR5 buffer. Like the RX 580, this card will also offer a smooth 60FPS gaming performance at 1080p resolution.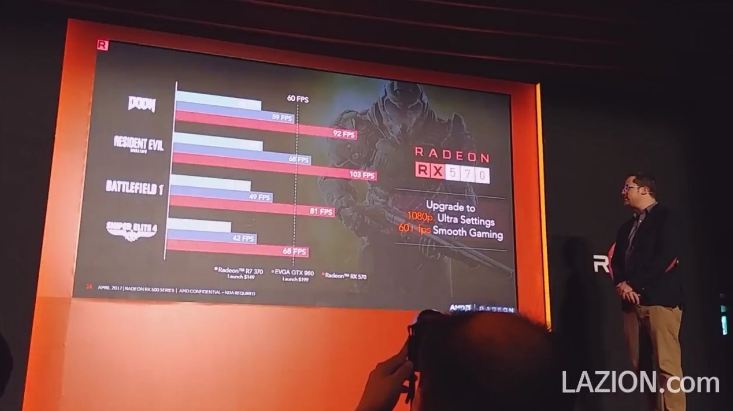 Because the Radeon RX 560 will aim for an efficient 1080p performance, it would make sense to expect this card to go along well with MOBA and eSports titles that have been gaining popularity among PC gamers these days.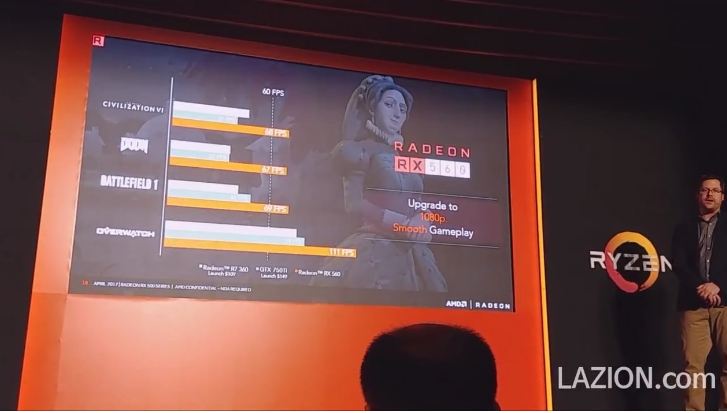 The newest of the bunch, the Radeon RX 550 will primarily target PCs that lack a discrete GPU, meaning it will thrive on making inroad into the budget sensitive sect of the market with a price point of less than $99.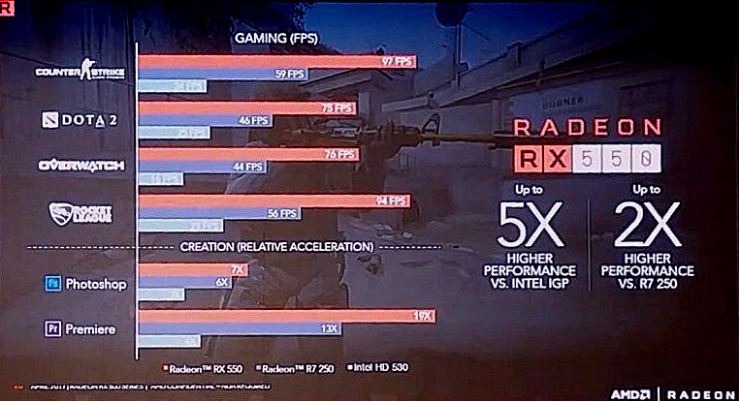 [
Via
]