The much-awaited AMD Radeon RX 480 is going to be released soon and is expected to sell like crazy in the market. While fans are waiting for the official release, online hardware retailer Newegg has already jumped the gun and has listed the RX 480 on its site. Last week, the Visiontek RX 480 was spotted on the site. And today, some more RX 480 cards have been seen online.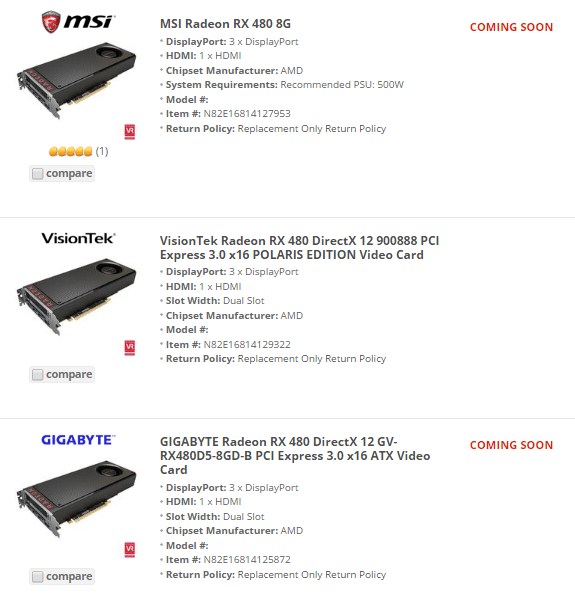 All the new Radeon RX 480 listings include options from manufacturers like PowerColor, Sapphire, etc. Some listings are still up on the website, while the others have been taking down. A screenshot from PCPer does show us the listing. The clock speeds haven't been provided, so we don't know whether the cards will be factory overclocked or stock cards. Some variants might get aftermarket coolers.
Even the size of the different cards is different. The XFC Radeon RX 480 is 10×5 inches, while the ASUS card measures 11.8×5.4 inches. The Sapphire will be 11.8×6.5 inches in size. Such a large list of partner cards will mean that the stock RX 480 will be very strong. In terms of performance, the card comes close to Nvidia's GTX 980 and costs just $200, which may just make it a best seller.