AMD's RX 470 and 460 should release in just a couple of weeks; today, we got some info regarding specs of the both cards, along with some official (AMD's) gaming benchmarks.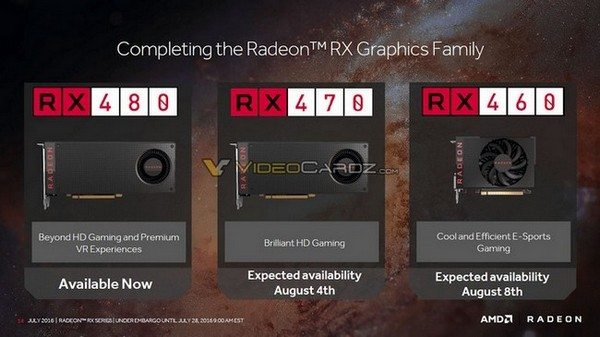 Let's first see details about RX 470. The definite release date for the card is set for August 8th, but the pricing is still left unknown. Although the projected price should be somewhere around $179, this is still unconfirmed by AMD. Fortunately, specs are now revealed, showing a card constructed for 1080p (full HD) gaming.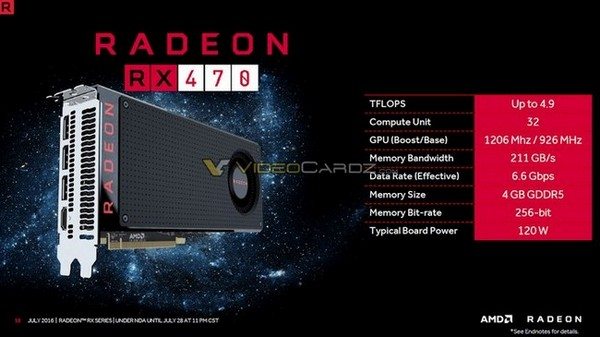 RX 470, based on Polaris 10 architecture, comes with 32 compute units which transfer to 2048 Stream processors; also, the chip features 128 texture units and 32 ROPs. Reference design counts 4GB of memory, but third-party manufacturers can construct cards with 8 gigs of vRAM; memory bus width is 256-bit. GPU is clocked at 926 MHz for base clock, while boost clock can go up to 1206 MHz; memory is clocked at 1650 MHz. TDP rating is 120 W, giving a hint the card should come with one 6-pin power connector.  All this gives the GPU a total compute performance of 4.9 TFLOPs.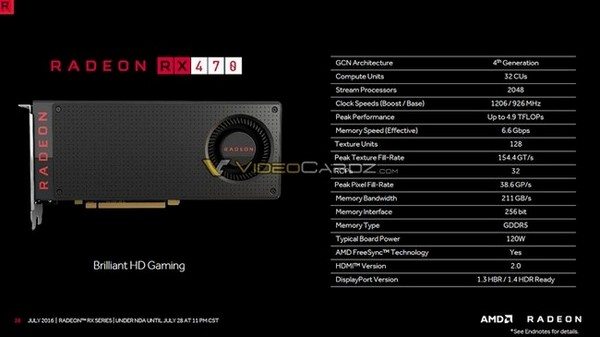 AMD promises performance 1.5-2.4 times faster than R7 270, which you can see on benchmark screenshot below.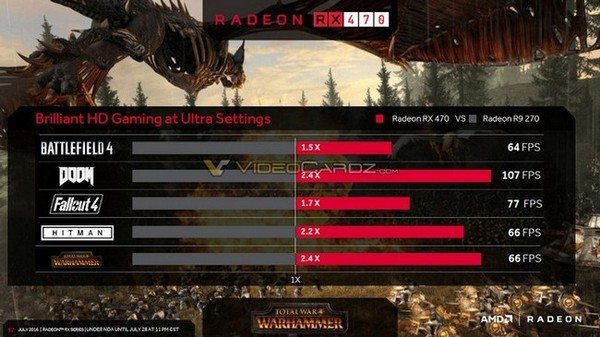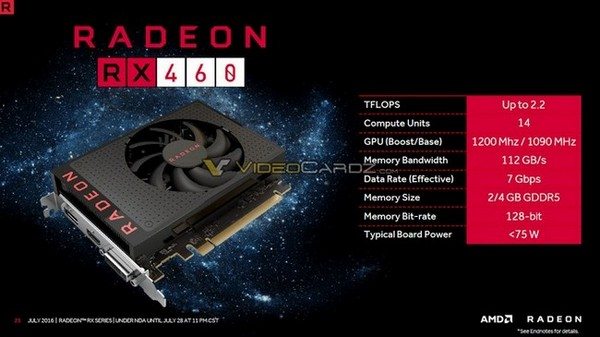 RX 460 arrives on August 8th, and the card is described as "perfect choice for e-sports gaming." It offers "console class GPU performance in incredible form factors."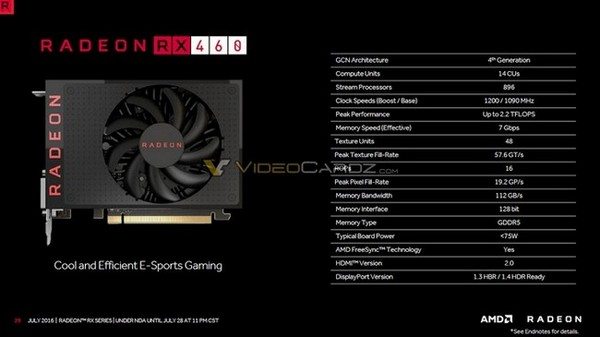 Benchmarks shown on screenshots show RX 460 performance in various e-sports titles (DOTA 2, CS: GO, Rocket League, Overwatch); AMD claims that RX 460 is 1.2-1.3 times faster than RX 260X, with a maximum computational performance of 2.2 TFLOPs.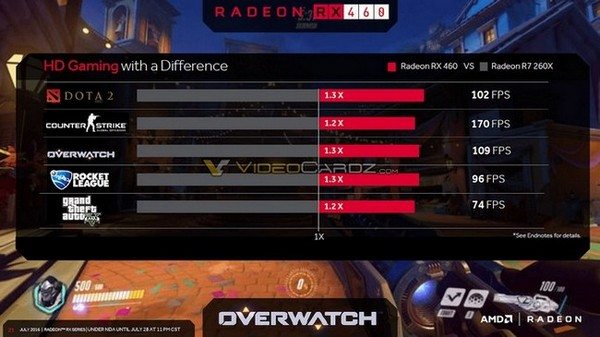 Other specs include 14 compute units (896 Stream processors), 48 texture units and 16 ROPs. Base clock is 1090 MHZ (with 1200 MHz Boost clock), memory bus width is 128-bit, and the card should come with 2GB or 4GB of vRAM. There won't be any power connectors on the card, which means that RX 460 will be powered via the PCI-E slot and that TDP will be lower than 75W.