Following the launch of Nvidia's Quadro M6000 GPU, a professional graphics card with 24GB VRAM, it was only a matter of time till arch rival AMD retaliated with its own high-end professional GPU to nullify any lead Nvidia may have obtained.
Keeping true to the expectations, AMD is launching the FirePro S9300 X2 – a next-generation dual-GPU video card that will set you back $6000.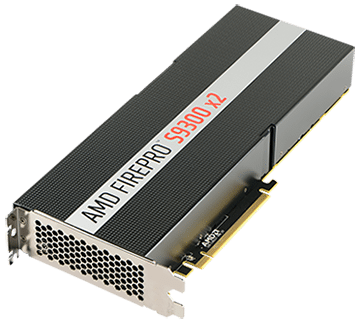 Admittedly, the FirePro S9300 X2 doesn't have enough firepower in the memory department to challenge the Quadro M6000's 24GB. The rest of the specs are impressive, nonetheless.
The S9300 X2 comes equipped with two Fiji's 28nm graphics processor, each clocked at 850 GHz while configured in the boost mode. The idea behind the product was to bring forth a high-end professional solution for businesses with comparatively much lower power consumption.
Considering that the new model consumes just 300 Watts despite using two chips, is a testimony to the fact that AMD, by and large, has succeeded in accomplishing that.
(Compared to that, the single-chip in the S9170 alone consumes 275 Watts).
AMD boasts the new product as the world's first server graphics card with 1 Tb/s memory bandwidth.

"Accelerate your most complex HPC workloads in data analytics or seismic processing on the world's fastest single-precision compute GPU accelerator, the AMD FirePro™ S9300 x2 Server GPU," reads the product page.