Today we bring you some details about the AMD AM4 X370 Motherboard Features. At the moment it is only available for OEMs and will be available through traditional means around CES 2017. But, if you're considering an upgrade for your PC any time in the future, chances are good that you are considering this motherboard.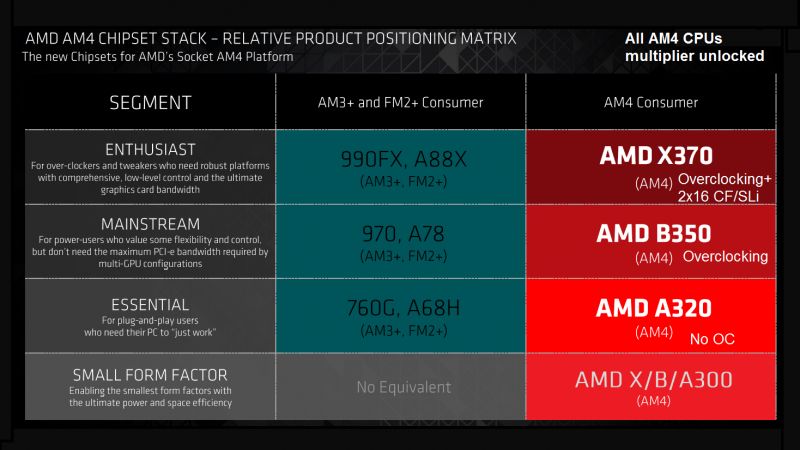 AMD AM4 X370 Motherboard Features revealed and confirm previous leaks
"Meanwhile, details about the chipsets are known and appeared first base pictures, which it is time for a little AM4-Introduction:

The flagship of the chipsets is named X370 and is thereby our earlier hopes justice because so equipped boards provide full PCIe bandwidth for CrossFireX and SLI-trailers; two PCIe 3.0 x16 slots are available. At least if one uses a Zen-processor, for the remaining AM4 processors – Bristol Ridge – offer yes CPU side only 8 lanes for graphics card. AMD is positioning itself with its AM4-pedestal interface view so in the small niche between Intel Socket 115x and 2011, for which a few additional PCIe lines meet.

In addition to this high-end chipset for enthusiasts there is the bread and butter chipset B350. This lacks the mentioned CrossFireX / SLI option the X370, but it also offers the possibility of overclocking, which in turn the smallest chipset representatives – the A320 – is missing. At the very end, there is the 300 chipset, which will be available in all three variations – including the X variant with CFX / SLi and overclocking function. What lies just behind this chip is unclear, perhaps nothing at all. That may sound strange only once, but bring AMD's modern chips as system on a chip (SoC) already all the necessary interfaces with – albeit in greatly reduced numbers. Who no longer needed, but that could be happy. Even followers smaller, sleeker, computer housings are sure to enjoy high-end boards in small format (small form factor)."
Head on over to planet3dnow to read the rest of the features detailed.