Amazon has had great success with its Fire tablets due to their affordability, and the last year's Fire HD 8 tablet was a hit too. We all know by now that the company is going to launch a new Fire tablet, but we weren't sure of any specs or details. Well, that was until now, as the 2016 Amazon Fire HD 8 tablet has popped up on the GFXBench website, thus speaking of its imminent launch.
Before we go ahead and spill the beans, let us tell you that the existing Fire HD 8 tablet is one of the best budget tablets in the market, which is why there's a lot of hope riding on its successor. Let's see what the new tablet will offer.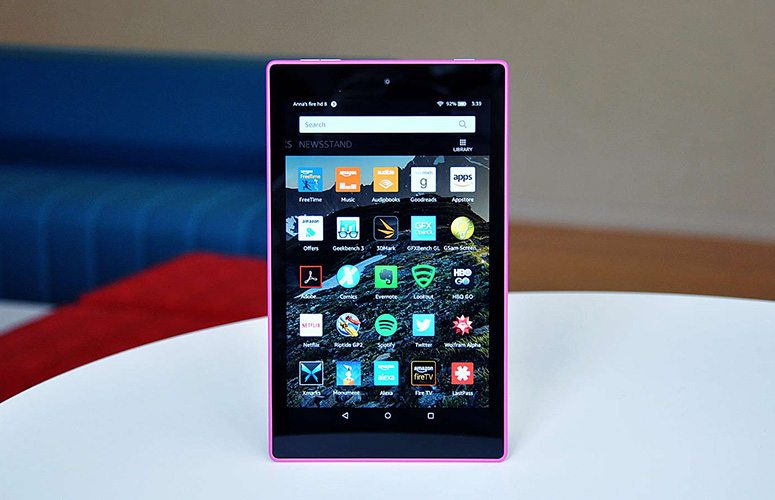 2016 Amazon Fire HD 8 Tablet Specs
The Amazon Fire HD 8 (2016) is clearly a sequel to its predecessor that was released last year, but going by the specs, it kind of looks like a predecessor itself. Named as "KFGIWI" on GFXBench, the device comes close the to last year's model that was codenamed "KFMEWI."
The new tablet gets an 8-inch 800 x 1280 display and is powered by MediaTek's MT8163 SoC featuring a a 1.3 GHz quad-core processor with Mali-T720 MP2 GPU. There's 1.5GB RAM and 8GB internal storage, but only 4.5GB will be available to the users. Do note that the last year's Fire HD 8 came with only 1GB of RAM but offered a 16GB storage variant too.
The 2016 Amazon Fire HD 8 tablet features a 2MP rear camera, which is a very disappointing downgrade from the 5MP camera that the current Fire HD 8 tablet offers. Thankfully, there's a selfie camera on the new tablet, but that too disappoints with a 0.3MP sensor. What's worth noticing is that the new tablet runs Fire OS 5.1 based on Android 5.1.1 Lollipop, while its predecessor runs on Android 5.0-based Fire OS 5.
Apart from all the specs mentioned above, the tablet will feature the usual stuff like gyroscope, accelerometer, light sensor, Bluetooth, WiFi, etc.
2016 Amazon Fire HD 8 Price
As you can clearly notice from the specs leaked on GFXBench, the Amazon Kindle Fire HD 8 (2016) gets lower-end specs, like a downgraded camera and a CPU clocked at a lower rate. This is why we expect the new model to be cheaper than the $149.99 price tag carried by the current Fire HD 8 (2015). If not that, then at least Amazon should keep the price same for those who would like 500MB more RAM.
Amazon Fire HD 8 (2016) Release Date
Not much is known yet about the release date of the Amazon Fire HD 8 tablet (2016). However, now that the device has passed GFXBench, a launch is clearly coming soon. The original 2015 Fire HD 8 was launched in September last year. So if we were to make a wild guess, we would say that the successor to the tablet will be launched anywhere between June to September.
But if we do hear anything about an official or even a rumored release date, we'll let you know. So stay tuned!