There has been a lot of buzz going on with regards to the upcoming AMD Radeon graphics cards. The newest micro-architecture, the Vega, is said to go head to head with NVIDIA's Polaris architecture. While many AMD fans are still waiting for the highly anticipated graphics cards to be released, an alleged 3DMark benchmark for the AMD Radeon RX Vega surfaced the Internet.
According to Guru3D, a certain AMD graphics card appeared on the 3DMark TimeSpy benchmark. The said hardware has a device ID of 687F:C1. Many would know by now that previous AMD GPUs use the first four digits of the ID as its identifier. The last two, however, are something new. However, the last time an AMD graphics card appeared on benchmarking tools, it has the device ID 687F:C3.
A bit more on the benchmark results, it can be seen that the graphics card in question was tested with an AMD Ryzen 7 1800X CPU running at 3.6GHz. As for the graphics card itself, the device under test is running at a meagre 1,200MHz. Way below its target 12.5TFLOPs. In fact, at this clock speed, the AMD Radeon RX Vega graphics card is running at 9.8TFLOPs only.
On the score itself, the 3DMark score of 5,960 is quite decent. However, it is not good enough to go head to head with a NVIDIA GeForce GTX 1080, much less with a GTX 1080 Ti. On the other hand, this performance figure is powerful enough to go against an NVIDIA GeForce GTX 1070.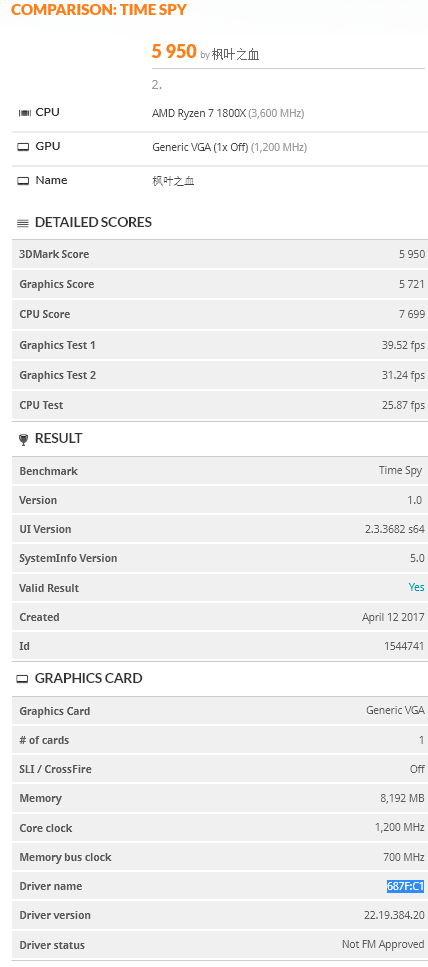 Other pertinent detail on the benchmark leak includes the size of the graphics RAM. According to the results, the device under test has a total of 8GB with a 700MHz bus speed. Unfortunately, the leak did not confirm whether the type of memory is an HBM2 or not. Nevertheless, it has been rumored for a very long time that AMD will be transitioning to the new memory type for the AMD Radeon RX Vega series of graphics cards.
It is still too soon to tell if these figures are representative of the actual product release for the graphics cards. Nonetheless, AMD has been known lately to underpromise and over-deliver on its range of products. Fans are hoping that AMD will be able to present the AMD Radeon RX Vega as a viable candidate for a high-end graphics card.
Check Also: Best Turn Based Strategy Games