Advanced Info Service (AIS) started offering Google Chromecast service, described by the company as Thailand's sole broadcaster of Google Chromecast service.
AIS is the largest mobile operator in Thailand and with this move, the company is trying to compete with VOD (video-on-demand) services in Thailand.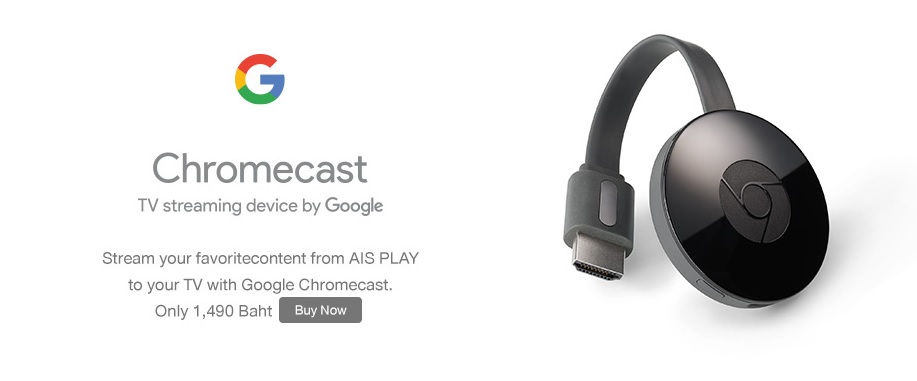 Chromecast devices can be ordered from the operator's site, with the price tag of 1,490 baht (around $43) per one Chromecast device. The prices aren't really competitive since the device can be purchased for $30 ( 1,050 baht) from lots of online retailers.
All customers have to do is to plug their Chrome cast into their TV's HDMI port, connect the device to the internet via a laptop, PC, or a mobile device, and then just stream their favorite movies and TV shows through the AIS Play app onto the TV's screen. The AIS Play app is an application service offering users access to various TV shows, movies, and sports events.
The move will push AIS into the never-ending battle between different VOD (video-on-demand) services. The company prepared for its new service by signing exclusive rights with NBA, HBO, and Fox, giving the company a strong library of video content. The deal came after TrueVisions failed to renew their exclusive distribution rights with HBO.
Further, AIS signed a deal with Google, giving the company exclusive rights of distributing Google Chromecast, enabling users to stream any video from Google Play's huge library of movies and TV shows.
Suvit Arayavilaipong, AIS's senior vice-president for product management stated that "We are determined to be a technological convergence company — of networks, content and devices — as we strive to provide modern digital lifestyle products and services to serve users' needs," and that "We want to differentiate our services from rivals, staying many steps ahead of the competition."
Although the AIS Play app has 1.3 million users, less than two percent pay for it, while the majority uses the app for free. AIS believes that the new deals will bring new subscribers to the service, as well as broaden the user base for the service. Since the company has 41 mobile subscribers in total, it is expected that the new deals bring lots of new AIS Play app users.
Suvit also stated that the company "aims to have 2.5 million active users of AIS Playbox and AIS Play, of which 2.1 million will be on the mobile platform." He also stated that AIS doesn't expect to generate profit in short time, and believes that the shift from voice-based revenue to data-based revenue will take at least one decade.