Reliance Jio Welcome Offer – with unlimited SMS, calls, and high-speed data – has prompted major service providers in India to slash tariffs. Reliance Jio's GigaFiber broadband service is expected to deliver speeds up to 100Gbps. To take on Reliance Jio's GigaFiber, Airtel has announced V-Fiber broadband to deliver super fast connectivity. In addition to announcing the new V-Fiber Broadband Service, Airtel has also announced that it will be extending the unlimited free voice calling to all customers, which was earlier available on only select broadband plans.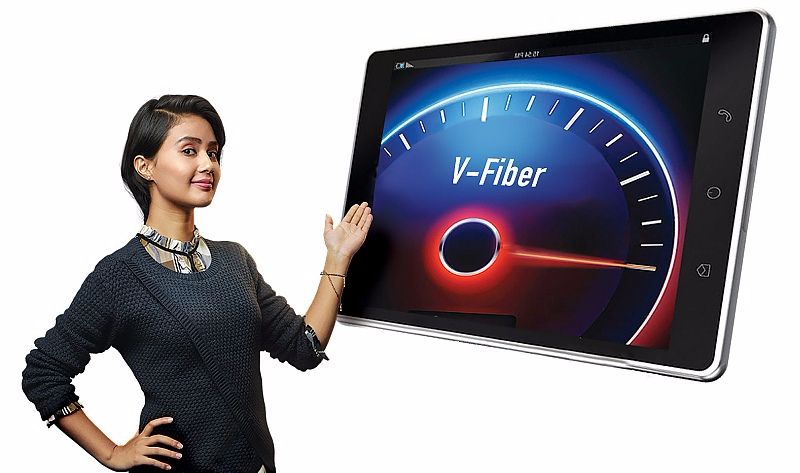 Airtel's GigaFiber service is expected to offer speeds up to 100Mbps and will be rolled out starting with Chennai. Airtel plans to gradually extend the service to around 87 cities across India. V-Fiber service will let users enjoy HD video streaming and enable heavy file uploads and downloads, without having to worry about buffering times and large wait times.
It's All About Vectorization
The new connection shouldn't take much time and the whole process of upgrading to V-Fiber broadband service is quite hassle-free. Airtel plans on boosting the last mile copper connectivity by using the technology called "noise elimination" a.k.a Vectorization. The technology aims at delivering super fast speeds of up to 100Mbps. Unlike traditional FTTH technology which requires fibers to be laid by digging roads, the V-Fiber service will not require Airtel to dig up roads and provide the connectivity.
Subscription And Plan Charges
For the new service, you need to purchase a modem, which costs you Rs 1000. But if you are already an Airtel broadband customer, all you have to do is purchase the new modem to upgrade to the new V-Fiber service. No additional rent charges will be levied. You can continue to enjoy 100 Mbps with the same tariff. The services start with a monthly rental of Rs. 999. There are plans up to Rs. 4999. But to ensure fair usage, the plans come with FUP limits starting from 50GB to 1000GB, depending on the plan you choose.
It remains to be seen if V-Fiber will be successful in competing with Reliance Jio's GigaFiber.