The rivalry between Airtel and Jio seems to see no end. The Bharti Airtel has been quite aggressive with its offers in the country. Now, the telecom operator is taking on Jio's 1Gbps GigaFiber by offering 100Mbps Unlimited Broadband for 3 months at just Rs. 999.
Airtel has launched its high-speed broadband service V-Fiber in India, which Airtel claims offers speeds up to 100Mbps. The new Airtel V-Fiber plans start at Rs. 999 for 50GB FUP limit and go up to Rs. 4,999 per month [for 1TB FUP limit]. The Airtel V-Fiber is currently available in Chennai. It will be expanded to 87 other cities including Bengaluru and Delhi NCR, in the next few weeks.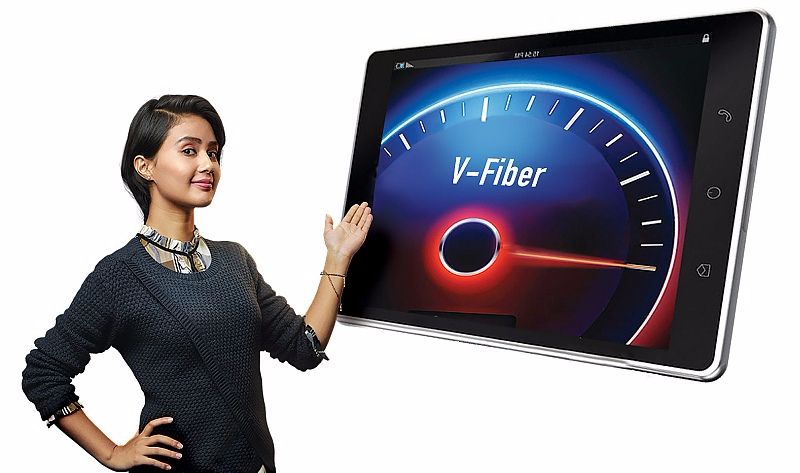 Airtel is accepting pre-orders for V-Fiber on its website. There would no increase in the monthly rental for those who upgrade. However, existing customers will need to upgrade their modem to support such high speeds. The company will provide the new equipment at an extra cost. Airtel is also offering a money back policy for the new modem, within the first month. The refunded cost will be reflected in the next bill cycle.
Airtel is using Vectorization technology to deliver such high speeds [first in India]. This technology is used for fixed broadband across Europe. This will be one of the largest deployment of the new technology in the world. Airtel has partnered with Huawei to upgrade its broadband network. Currently, Airtel is offering up to 16Mbps speeds.
Airtel has also announced that unlimited free voice calls will be available to all customers. Earlier, this features was only available on select broadband plans.
Reliance Jio has created big ripples in the telecom sector. The industry leaders have been coming up with new offers to one up each other and retain customer base. As soon as Reliance Jio offered free mobile Internet free for four months, rivals such as Airtel, Vodafone, and Idea sprung into action.
Next, the Oil-based conglomerate announced plans to launch GigaFiber with 1Gbps fibernet broadband. In fact, it has already been testing the service in select housing societies in Chennai and Mumbai. Currently, Jio is also offering 3 months of free fibre-to-the-home (FTTH) service. The commercial launch can be expected, early next year. It's hard to predict where this competition will end now.