Smartwatches are the new fancy toys in the smartphone market and are growing fast in number. Apple, LG, Samsung, Sony, and all the other major players have introduced their own premium smartwatches in the market. Though the products have received a lot of positive feedback, they are premium products and hence come at premium prices. Someone who uses a $200 smartphone will certainly think twice before buying a Sony, Apple, or Samsung smartwatch equivalent to or more than the price of his phone. However, even the smaller smartphone and gadget manufacturers have started sensing the need of the market for affordable smartwatches and have come up with some great options that won't burn a hole in your pocket.
GV08S
This one is a premium-looking smartwatch made out of stainless steel and the rubber band is super-soft type. The watch supports a single SIM card and you can connect it to your phone via Bluetooth to receive calls directly on the watch. It gets a pedometer, a sleep reminder, and an anti-lost function. The 1.5-inch HD IPS display is an OGS LCD touchscreen unit with a nice resolution of 240×240 pixels. The watch has also got a 0.3MP camera it, while you can remotely control your smartphone camera through the watch. The GV08S smartwatch works with Android phones and comes in various colors while just costing $25.99.
K8
While the GV08S gets a rectangular screen, the K8 gets a classic circular display resembling a normal watch. The K8 looks premium and the strap is made out of genuine leather. The watch gets a 1.4-inch OLED display with an excellent resolution of 400×400. The K8 sports a heart rate monitor and a pedometer too, apart from other standard features. Under the hood is a dual core MTK6572 chip clocked at 1.0GHz and coupled with a Mali-400MP GPU. The watch runs on Android 4.4 and supports Bluetooth 4.0. It gets 512MB RAM with 4GB storage capacity. The K8 costs $125.99, but surely justifies the price tag.
GV18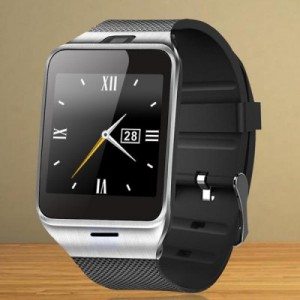 The GV18 is another very affordable smartwatch like the GV08S. It features a 1.54-inch TFT display with 240×240 pixels resolution. Apart from the regular features, it also gets NFC, pedometer, anti-lost, sleep monitoring, remote control, etc. Priced at $24.59, this watch is extremely cheap and can be good as your first smartwatch.
AIWATCH GT08+
Compatible with both iOS and Android, you will find that the GT08+ bears a very striking resemblance to the Apple Watch. You can hence be sure that the product looks very premium and expensive. It supports Bluetooth v3.0 and also a SIM card. You can easily receive and send messages and calls right from the watch, while data synchronisation with your phone is a breeze. You can remote control your phone's camera or use the 0.3MP camera in the watch. There's a 1.54 inch TFT touch display with 240×240 pixels of resolution. Sleep monitoring, pedometer, sedentary reminder, and anti-lost features make this watch a good buy at just $31.59.
All these watches can be a good gift to yourself or someone who hasn't received his first smartwatch yet. Until the bigger brands start producing affordable smartwatches, you can have the same fun with these affordable options. If you liked any of the smartwatch, or want to learn more about these products, you can check out more info at Chinese retailer Everbuying website.