iPhone activation errors are mostly seen when you try to reset the iPhone to factory defaults or when you try to restore the iPhone. This post is all about the possible solutions for "how to activate iPhone". Turns out you aren't alone. Many people have faced this annoying error. To top it all, the message shown is not very clear.  All it says is "Activation Error". If the problem persists, please contact customer care." Very helpful!!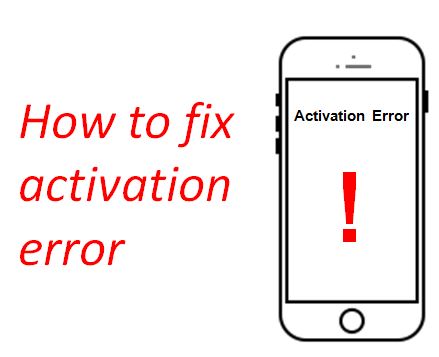 How to Fix iPhone Activation Error
First, make sure that the SIM card is available in your iPhone. This is the first requirement to activate your iPhone. If SIM card is already inserted, before you contact Apple Support, which we definitely recommend you should, if the below guide fail to resolve the issue, give these fixes a try –
1. Start Over Again
Often, starting iPhone over and over again can get rid of this error. To start the iPhone over again, follow these steps –
Step 1. Press the Home button till you see these options – Emergency Call, Start Over and Wi-Fi Settings
Step 2. Select Start Over
Repeat this process a couple of times if it doesn't fix the issue in the first attempt.
2. Restart your iPhone
We have covered this as one of the solutions for many of our iPhone fixes. This solution never ceases to amaze engineers and iPhone users. Every time something happens to your iPhone, the first thing that you should try is the tried-and-tested, mother of all solutions, the classic 'Restart'
To restart your iPhone –
Step 1. Hold down the Home button and Power button simultaneously
Step 2. Continue holding the buttons simultaneously until you see the Apple logo appear on the screen.
3. Check SIM Activation
Sometimes, your iPhone refuses to activate simply because you are trying to activate a carrier that hasn't been unlocked on your iPhone. Immediately call your carrier and get your iPhone and SIM card activated.
4. Try using a Different SIM Card
If you know that one of the other SIM cards worked perfectly well, then use this SIM to check if the activation error goes away. If it still persists, you can try to fix this issue using iTunes in next step.
4. iTunes to the rescue!
iTunes? Yes! iTunes could be just the solution you are looking for "how to activate iPhone". Follow these steps –
Connect your iPhone to the computer.
Switch off iPhone. Reboot.
This should cause iTunes to open automatically. If it doesn't, manually open iTunes.
Once your iPhone is detected by iTunes, it will ask you to complete a few steps and your iPhone may get activated without any errors!
6. Check to see if your WiFi/Network is the culprit
Your WiFi/Network could be blocking your iPhone from activating. Try connecting your iPhone to a different WiFi source and check to see if the activation error still persists.
7. Last but not the least: Restore
Restoring your iPhone may fix the activation error once and for all. We don't guarantee, though. But it's definitely worth a try!
Switch off iPhone. Connect iPhone to your computer.
Open iTunes. Switch on iPhone.
iTunes should automatically detect your iPhone and ask if you wish to restore your device. Confirm when prompted.
After the process of restore is complete, check if activation error still persists. Most of the times, restoring iPhone gets rid of this error.
One of these solutions should definitely work for the problem you have been facing for quite some time – "activate iPhone". This question gets asked a lot and so we decided to present all the possible solutions, hoping at least one of them will fix the error. If you have tried all the solutions above in vain and still wondering how to activate iPhone, we suggest you to contact Apple Support. If you have successfully activated iPhone but haven't been able to activate iMessage, check how to fix iMessage activation error.