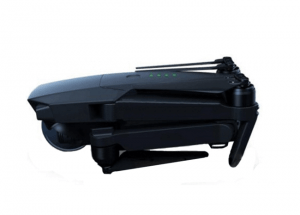 DJI, widely regarded as the pioneers in the civilian drone industry, is reportedly working on a new quadrocopter called the DJI Mavic. Among other specs and features that could potentially make Mavic a new flagship for the company, portability is going to be one of its biggest advantages.
According to reliable, but unconfirmed reports, DJI Mavic will be a foldable drone designed to facilitate easier transport and handling.
The report first surfaced on the website Heliguy, but has since been removed at the request of DJI.
The Heliguy report included photos of the drone leaked earlier in the week along with some key specs. The source of the leaks are unknown, but it seems like the drone will carry a 4k camera and two-axis gimbal.
Other important specs include an LCD display running Android, a 3,830 mAh battery, and Wi-Fi connectivity (up to a distance of 300-meter). At just 1.43 pounds, Mavic could be the lightest drone yet from DJI.
Following the leaks, DJI switched to a damage-control mode and sent invites to the media for a press event on September 27, 2016, in New York City. The invite used phrases like "adventure at your fingertips" and "Rediscover adventure with DJI", but without fully revealing what could be in store.
In a related development, GoPro has announced that Karma, its maiden venture into the drone market, will mark its debut later in this month.