Drones are playing a dirty role in the scheme of Internet of Things. Rather than being useful at home or in a factory, drones are mostly found capturing amateur spy video. Luckily things are going to change.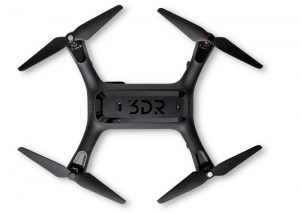 For instance, the construction industry has started using them as unmanned aerial devices to monitor places where human presence isn't safe. Komatsu, a Japanese construction company even has Robotic bulldozers guided by drones.
3D Robotics, drone maker company on Monday announced Site Scan system with Sony and Autodesk. One of them uses for Site Scan is in construction industry only. Site Scan system comprises of a 3DR Solo drone, a Sony UMCR10C or GoPro Hero4 Black camera, a Sony Xperia Z4 tablet with the Site Scan app, and the rights to use the Autodesk Cloud for image processing and publishing.
With Site Scan, 3DR targets telecommunications, energy, infrastructure and mapping operations along with construction. It's not simply a gadget: The high-end version with the Sony camera costs US$5,000 and comes with both a 1650mm zoom lens and a 20mm wide-angle lens.
The system can be used by enterprises for automated or more interactive missions at a work site. The data collected by drone is store in 3DR's cloud and sent to the Autodesk Cloud for analysis. The same can be shared with other professionals and engineers too.
In its Survey mode, Site Scan system captures images for high-resolution maps and digital elevation models. While In Scan mode it collects imagery for building 3D models of the site. And Finally in Inspection mode, the system lets users zoom in, by swiping and pinching on the tablet screen, to view and photograph things more closely.
Drone can be controlled by drawing geofences on the tablet. Also, database of areas where drones aren't allowed is included in the Site Scan application.
As far as the pricing goes, the system is much cheaper with a GoPro camera, at $3,249. The cloud services which are equally important are meant for serious work and sets you $499 per month, though right now you can sign up for a year at introductory rate of $299 per month. Their is unlimited storage, processing and publishing.
The Site Scan system is now available with the GoPro and is expected to ship in June with the Sony camera.