Remember, iPhone 6, the 2014 flagship offering from Apple. The smartphone launched in three storage variants of 16 GB, 64 GB, and 128 GB. However, Amazon India surprised everyone when it ran a banner ad on its homepage with Apple iPhone 6 32 GB at just Rs. 28,999. The reason it's surprising is because Apple never launched the 32 Gig variant of iPhone 6.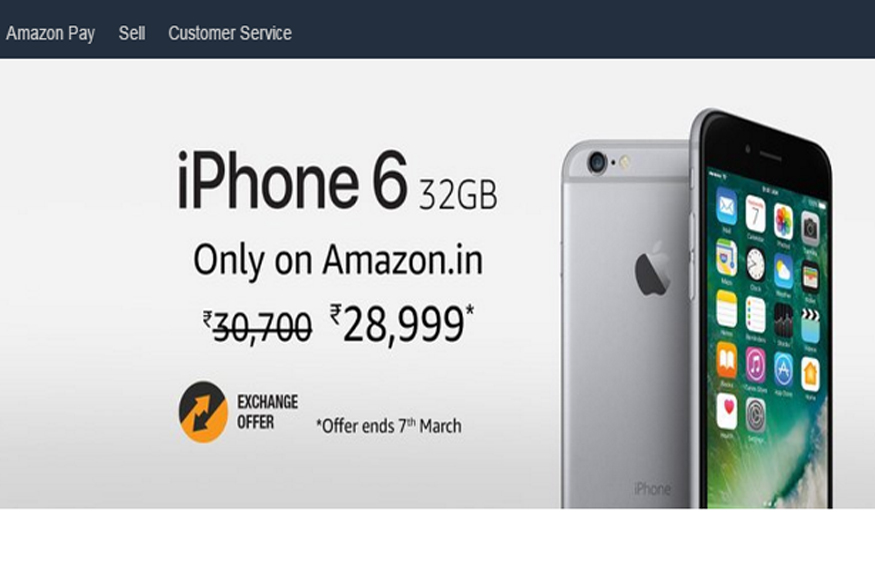 Don't fret just yet, we aren't saying Amazon is ripping its customers or anything, and we know Apple is reported to have launched a 32GB variant specifically for the Asian market, but the clarity is still missing on the issue.
According to the recent reports, Apple is expected to launch the 32 GB iPhone 6 in Taiwan and China. There was no mention about the Indian launch for the said model, and hence the uncertainty. Anyhow, the smartphone seems to have landed on the Indian shores and is available at a special price until March 7. In case, you are willing to shell out your money for Apple iPhone 6 32 GB variant, just consider the five points below before making the purchase.
1. Not an Amazon offer
The retailing giant is neither the seller nor the generator of the said offer. It is sold by a third-party seller, E-Mobiles, but Fulfilled by Amazon India. This essentially means, Amazon is only responsible for packaging and handling the product. It's best you check the rating and reviews for a seller while making a purchase on a marketplace like Amazon.
2. No Cash on Delivery
If you are one of those, who likes to deal in cash, we are sorry to inform you that it's a prepaid deal only. You need to make the payment beforehand.
3. Amazon India is not an Apple authorized internet seller
While most of the iPhones are available on Amazon India, the online retailer is not an authorized internet partner for the Cupertino giant. Only Infibeam and Flipkart enjoy that status. However, the listing shows "1-year manufacturer warranty for device and 6 months manufacturer warranty for in-box accessories including batteries from the date of purchase". It's best to confirm the same with Apple customer care.
4. Apple iPhone 6 is discontinued
Just going through Apple portal, we noticed that iPhone 6 is nowhere to be found. Hence, we assume it is officially discontinued for the Indian market. Or Apple needs to take care of its inventory seriously.
5. Better to go without Exchange
The exchange value offered on Amazon are very low. In case, you plan on upgrading your smartphone, don't go for the exchange.
You can buy the new iPhone 6 32GB variant on Amazon here.
Check Also: Best smartphones under 20000