Rugged phones are in minority, but we all need one at some point. Going on an active vacation, like camping or hiking trip craves for a phone that won't break after being dropped on a stone, or diving into water. A phone that can survive dusty music festivals that can be accidentally left in a freezer, staying there for hours and after all that work without problems. Well, the upcoming Stone V3S from VKwolrd can keep up with anything, leaving out of any rough situation as a winner.
The main issue with rugged, all conditions phones is their price. Since most of the recent models got into smartphone wagon, their price can't be called affordable. So, you have a choice between buying a regular smartphone which you'll use constantly, or choosing a rugged smartphone that will show its strengths just occasionally, while you're out in the wild for instance, while being big, bulky and tough to handle during the rest of time. Well, the Stone V3S is not an over expensive tough device; the phone will cost just around $30, being a perfect secondary phone, to be used while on a move.
It offers quadruple protection including IP67 certificate, guaranteeing dust and water resistance, extremely tough chassis (metal frames made out of Zinc alloy) enabling the phone to be constantly dropped without any consequences, and a feature enabling the device to be used under extremely cold conditions (up to -50 degrees Celsius). All this, in combination with laser carved keyboard characters and a transparent resin coating, applied on every key, guarantee the longevity of the device and its toughness.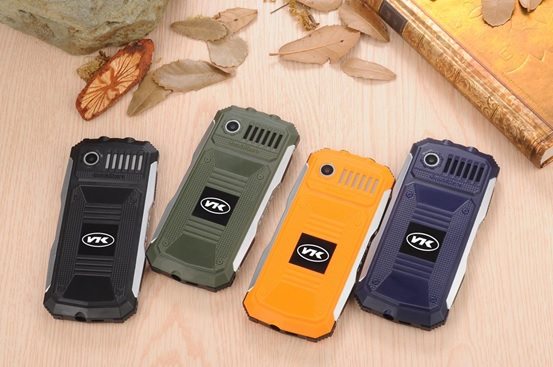 Since the Stone V3S is a feature phone, there is no complex hardware in it that can go off after just one fall. Further, there's no huge touchscreen prone to shatter even with thick glass protection. You can be sure that the Stone V3S will serve you for years and years.
This device is a perfect choice for all adventurers and nature enthusiasts (especially for those living in extremely cold places), but could also be an excellent first phone choice for your child, since no matter what the child does to the phone it will stay in perfect condition.
The Stone V3S is available starting today, for the unbelievably low price of $30. And if you're feeling lucky today, stop by at the VKworld promo site, you might win one of the 100 free mobile phones that are a part of the latest promotion.