Cloud services are slowly getting popular, but most of the users still rely upon storing data on their devices. Cloud has still a lot of paths to cover before it takes the primary seat in the storage market. South-Korean giant Samsung realises this potential of the internal-storage industry and hence it is coming up with the world's first 256 GB memory based chip.
Samsung has announced that the module is already in mass production. This 256 GB memory module is based on the Universal Flash Storage 2.0 technology. This new embedded chip will not only provide a gigantic storage but also lightning fast transfer speed.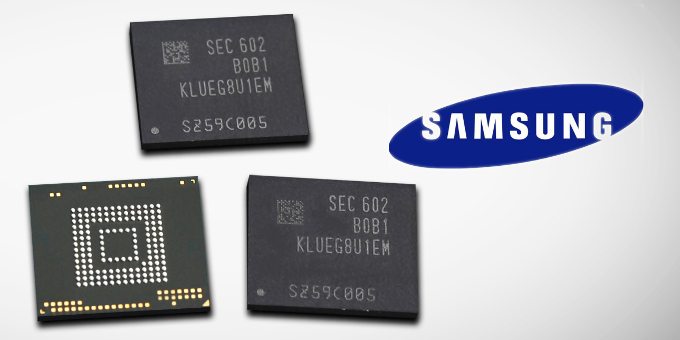 Samsung will use this chip in its next generation flagships. Samsung has said that the chip will provide writing speed of up to 260MBps and reading speed of up to 850MBps. These speeds are even twice as fast as offered by SSDs and are really impressive. This chip is based on the latest V-NAND flash memory technology and also has a great controller. It can handle up to 45,000 input operations or 40,000 output operations per second, which is really amazing by current industry standards.
This chip will find real-life application in playing 4K videos without any hitch while also multi-tasking at the same time. Samsung has said that it would take only 12 seconds in transferring a standard 90 minute 1080p video.
Joo Sun Choi, Executive VP of Memory Sales and Marketing at Samsung Electronics, said:
By providing high-density UFS memory that is nearly twice as fast as a SATA SSD for PCs, we will contribute to a paradigm shift within the mobile data storage market. We are determined to push the competitive edge in premium storage line-ups – OEM NVMe SSDs, external SSDs, and UFS – by moving aggressively to enhance performance and capacity in all three markets.
Samsung has said to ZDNet that this new chipset will be seen in the "next-generation premium smartphones." The Samsung Galaxy S7 and the Samsung Galaxy S7 Edge that were launched at the MWC recently, but these flagships don't feature this chipset. Hopefully, the Galaxy Note 6 will sport this chip.
Stay tuned for more news and updates and do leave your queries and suggestions in the box below.