Just like we have been discussing for the past several weeks, Intel is likely to release the next-generation Kaby Lake processors early next month. Along with that, the chipset will also be upgraded to the 200-series.
While the 100-series boards can extend support to Kaby Lake with the help of new firmware, motherboard manufacturers are prepping to cash on the opportunity to launch their shinny new 200-series boards with loads of new and improved features to woo users across the spectrum. And now, adding more excitement for awaiting fanboys and enthusiasts, a new report has surfaced about MSI releasing as many as 16 variants of the Z270 motherboards.
Said models are as follows: Z270 XPower Gaming Titanium, Z270 MPower Gaming Titanium, Z270 Gaming M7, Z270 Gaming M5, Z270 Gaming M3, Z270 Gaming Pro Carbon, Z270 Gaming Pro, Z270 Krati Gaming, Z270 Tomahawk Arctic, Z270 Tomahawk, Z270 Gaming Plus, Z270 SLI Plus, Z270 PC Mate, Z270-A Pro, Z270M Mortar, Z270I Gaming Pro Carbon AC.
Meanwhile, on a related development, a detailed block diagram depicting the Z270 chipset has appeared online, allowing us a sneak peek into what exactly to expect. Note that, because of its compatibility with Skylake, it makes sense to compare the new chipset for Intel's LGA 1151 platform with the Z170 — especially when it comes to the upgrades.
Starting with the CPU clock speed, the DDR4 support is going to increase from 2133 MHz to 2400 MHz. We can only hope that this improvement will also manifest itself in terms of peak memory overclocks. The rest of the connections remains more or less the same, with a DMI 3.0 connection and a 16x 3.0 PCIE lanes in multiple configurations.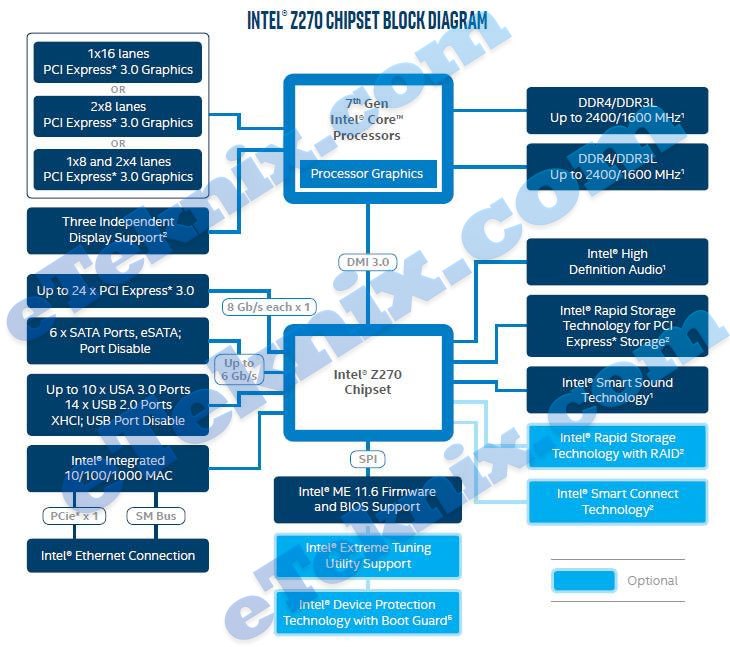 Overall, the new chipset appears to be by and large the same with one major difference. In the new chipset, you can add four new PCIe lanes to add it up to 24 PCIe 3.0. Other specs remain the same, with the same 14 USB 2.0 ports, 10 USB 3.0 ports, and 6 SATA ports. That's understandable too — after all, given the backward compatibility with Skylake, it would not be too realistic to expect Intel opting for too many radical changes.