13 Reasons Why – the Netflix show based on the 2007 novel Thirteen Reasons Why by Jay Asher and adapted by Brian Yorkey for Netflix, has become immensely popular and is already on top of the most tweeted programs of 2017. The show focuses on Clay Jensen's classmate Hannah Baker's suicide. Clay finds a package on his doorstep two weeks later containing thirteen videotapes made by Hannah, explaining the thirteen reasons behind her suicide. Clay is shocked to know he is one of them and is desperate to find out how he fits in. We had already reported that Season 2 of 13 Reasons Why has been confirmed by Netflix. And now, the filming for Season 2 has already begun. Read on to fine out more!
13 Reasons Why Season 2 filming begins amidst controversies
Fans of 13 Reasons Why will be pleased to know that filming of Season 2 of the show has already begun. Christian Navarro, who plays the character of Tony, has confirmed the news on Twitter. His tweet reads – "Day One. S2. Ready to make some magic". 13 Reasons Why has been in the news for quite some time – not just for positive reviews but also for the criticism it has been receiving from mental health organizations for glorifying suicide.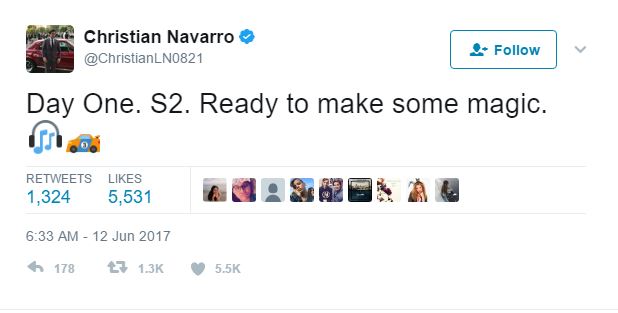 While the show is a great adaptation of the novel and portrays the events in a way that's more relatable to the current generation, several mental health experts have expressed concern that the show glorifies suicide and adversely affects the mental health of kids. Dr. Victor Schwartz, Medical Director of JED Foundation told NBC News that the show's premise projecting other people are to be blamed for Hannah's suicide is a failure on the part of the show.
Also, suicide prevention centers and mental health experts have come together through JED and SAVE (Suicide Awareness Voices of Education) to bring up a list of 13 talking points for young adults and parents. In spite of the controversies surrounding one of the most popular shows on Netflix, the filming for Season 2 of 13 Reasons Why has begun.
Season 2 of 13 Reasons Why is expected to premiere in 2018 and will consist of the signature 13 episodes. Showrunner Brian Yorkey, speaking to EW about Season 2 story line, had this to say –
"When people intimate that Jessica's story is done, I find that a horrific thought because Jessica is just beginning the process of recovering from her rape, and we have a rapist who has not in any way been brought to justice. To leave those two things hanging out there in the world would be upsetting."
Meanwhile, Selena Gomez, who happens to be one of the executive producers of the show has also revealed what's in store for Season 2, stating that some of the questions that remained unanswered in the first show will be answered in the upcoming new episodes.
"I think for season two, we elaborate more on some of those questions and the stories and the resolution, if you will, of what some of these kids have gone through and are going through. So it's exciting."
Also, check out the possible storyline for Season 2 of 13 Reasons Why