ZTE, China's biggest telecom equipment provider is on road to manufacture a highly advanced tablet, the ZTE Axon tablet. With the Axon branding it plans to put the device on top shelf and guarantee optimum performance. It underwent the GFXBench benchmark test with its model number A2016. Previously, the A2015 was a special variant for the China market, so one can assume that this benchmarked device would also be a part of the Axon line
The benchmark test conducted by GFXBench benchmark showcased some spectacular specifications for the tablet. With a big 13.7-inch screen size and a UHD resolution of 1080×1920, it has extreme clarity at pixel densities of 160ppi. It also runs on Qualcomm's current high-end Snapdragon 810 chipset making it highly optimized. The 1.9GHz processor alongside an octa-core GPU plus an Adreno 430 GPU graphics adds extra charm to the slate.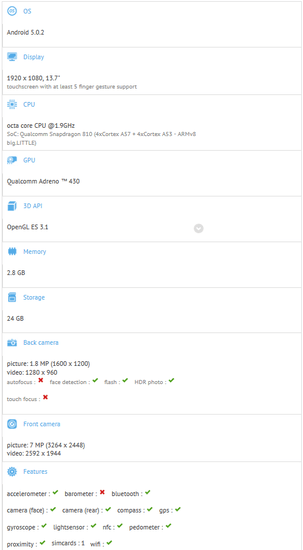 To increase the operating capability of the device, the Axon family have put in 3 GB of RAM, alongside a huge 32GB storage capacity, further expandable to a whopping 128 GB. The microSD slot comes beneficial on board. For a tablet, a 7MP main camera is pretty high end, and for selfies a 2MP camera would be optimum.
The gadget runs on latest Android 5.0.2, and supports 4G LTE networks, with an enabled NFC.
Though the pricing is yet to make the records, but we can expect that ZTE won't keep us waiting for long before making it official.